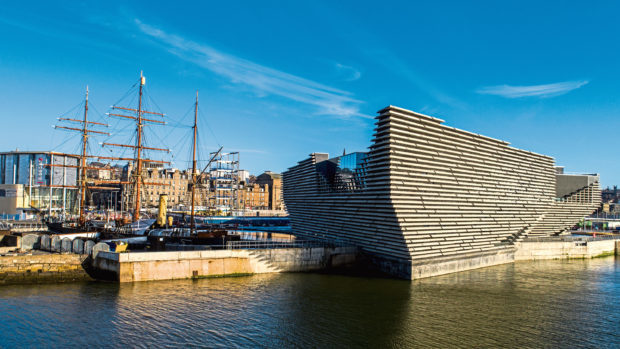 The opening of V&A Dundee has led to a massive increase in visitor numbers for the city's other cultural attractions, with footfall at Discovery Point double last year's figure.
The £80 million museum on Dundee waterfront opened in September.
More than a quarter of a million people have already visited the Kengo Kuma-designed building – more than half the 500,000 people expected in its first year.
Other attractions, including The McManus, Discovery Point and Dundee Contemporary Arts say they have also experienced a rise in visitor numbers as a result.
Dr Paul Jennings, executive director of Dundee Heritage Trust, said: "There has been a significant increase in visitors around the waterfront area and our café and gift shop at Discovery Point are experiencing close to 70% increase in sales since V&A Dundee opened on  September 15.
"We were tracking approximately 17% increase in visitors at both Discovery Point and Verdant Works based on 2017 visitor numbers prior to the V&A opening, and this has continued to grow since it opened.
---
---
"Both venues have seen an increase of 100% in numbers over 2017 figures since the V&A Dundee opened. We have had over 50,000 visitors through the doors at Discovery Point in the last eight weeks, which is phenomenal.
There is a great buzz around the city and waterfront area at the moment and it's fantastic to see people flocking to see V&A Dundee, our newest iconic building, and an incredible addition to the Dundee tourism offer."
Beth Bate, director of DCA, said: "We were delighted to see a 15% increase in overall visits to the building and a 23% increase in average gallery attendance throughout the past eight weeks compared to the same period last year, undoubtedly as a result of V&A Dundee opening and the increased attention Dundee has been receiving.
"It's a real testament to the quality of the city's cultural life as a whole that audiences have been enjoying a wide range of experiences during their visits.
"I'm looking forward to continuing to work with our cultural partners in the city to present a compelling case for Dundee as a place to visit for great cultural experience; and with funding recently confirmed for the Tay Cities Deal the prospects for investment in Dundee's tourism sector are strong."
Billy Gartley, head of cultural services at Leisure and  Culture Dundee said: "It's very early days although indications so far are incredibly positive.
"We were already having a tremendous year at the museum with our 'Bash Street's Back at The McMenace' exhibition, which is now our most popular exhibition ever with over 100,000 visitors.
"Now, since V&A Dundee opened, we are experiencing more than double the number of weekend visitors and that is hugely exciting for everyone here.
"We are also enjoying seeing many, many visitors from outwith the City and can't wait to welcome even more."
Philip Long, director of V&A Dundee, said: "We are delighted to see how some of Dundee's most loved attractions have seen a boost in visitor numbers since V&A Dundee opened in September.
"V&A Dundee has always been planned to become an integral part of city life, both as the centrepiece of the waterfront regeneration but also as a way of raising the city's profile and encouraging more people to visit Dundee's wonderful galleries, museums and other attractions.
"Since our opening V&A Dundee has welcomed over 250,000 visitors and it's great to see many of these are taking time to enjoy all the city has to offer."