Police were called after a security worker apparently became locked in his van in Broughty Ferry on Friday morning.
Locals were taken aback when an alarm calling for "help" and telling passersby to "call the police" sounded from the security firm's van on Brook Street at about 10.50am.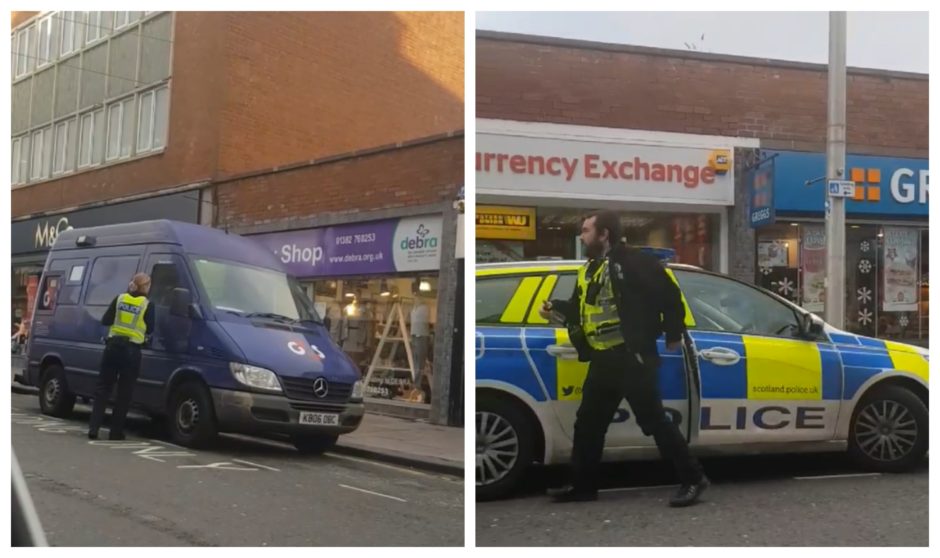 The worker was sitting in the front of the vehicle at the time and, according to eyewitnesses, was unable to get out.
Throughout the incident an alarm was declaring: "Help, help – G4S driver requires assistance".
The incident took place outside Brook Street's No1 Currency Exchange outlet.
Locals attempted to help him, but he gave a "thumbs up" to indicate he was okay.
Police arrived at about 11am to check on the G4S worker, but were not needed.
Carnoustie man James Barton was parked across the road when the incident unfolded.
The 38-year-old said: "I don't think he could get out, I think when the alarm went off that was him stuck. A few people went up to the van to check on him. He was on his mobile phone.
"Somebody must have phoned the police. Everyone on the street seemed to stop as if it was something serious.
"He was stuck in and on his phone a wee while. I don't know if he was able to go or not."
Mr Barton said the worker was still in the van when he left at about 11.10am.
A police spokesman confirmed that officers had been called to the scene following reports of an alarm sounding on Brook Street.
He added that "all was in order" on arrival.
Gareth Skinner, head of operational risk for G4S cash solutions, said: "We are aware that one of our vans developed a minor technical fault on Brook Street, Dundee, on December 7 2018.
"A security technician promptly arrived on scene to reset the system, and the vehicle is now fully operational."