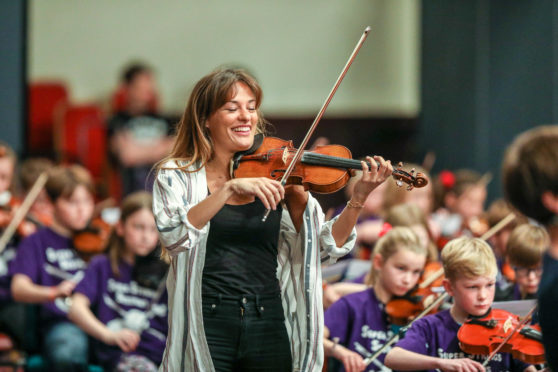 Scottish superstar violinist Nicola Benedetti will help members of Dundee Symphony Orchestra celebrate their 125th anniversary this week.
The world-renowned musician will lead a concert with the musicians on December 19 to raise funds for children's charity Big Noise Douglas as well as Tenovus medical research charity.
Big Noise Douglas was set up in Dundee last year by Optimistic Sound and Sistema Scotland to help the lives of young people in deprived areas through music.
More than 30 children from Claypotts Castle and St Pius Primary School will also take part in the show at the Caird Hall.
Ms Benedetti said: "I am delighted to be a part of the birthday celebrations of the Dundee Symphony Orchestra. 125 years is a great achievement.
"It is also wonderful to give a platform to some of the children from Big Noise Douglas who work so hard and grow in confidence through their engagement with the programme.
"I am proud to be patron of the Dundee Symphony Orchestra and Big Sister to the children of Big Noise.
"Perhaps one day these young musicians will also be members of the Dundee Symphony Orchestra."
Donald Gordon, Dundee Symphony Orchestra fundraising manager, said: "On the occasion of the orchestra's 125th anniversary, we were keen to invite our patron, Nicola Benedetti to play a concerto.
"At the same time, we wanted to recognise her important work, both nationally and locally for Sistema Scotland and in particular for the support given to Big Noise Douglas.
"Dundee Symphony Orchestra is excited and proud to be associated with Big Noise Douglas and to be able to raise funds for this vital programme."
Chris van der Kuyl, Optimistic Sound chairman, said the show would feature "a phenomenal combination of community spirit and word-class talent".
"Optimistic Sound could not be happier to have the Big Noise children on the Caird Hall stage taking part in this very special concert," he said.
"We are headed for a full sell-out and the atmosphere promises to be tremendous. This is another brilliant experience for these young people and their families being provided by Big Noise Douglas.
"We are happy to be able to support this work and ask anyone who can help our fundraising efforts to do so."
Tickets are available from the Dundee Box Office, priced £12.