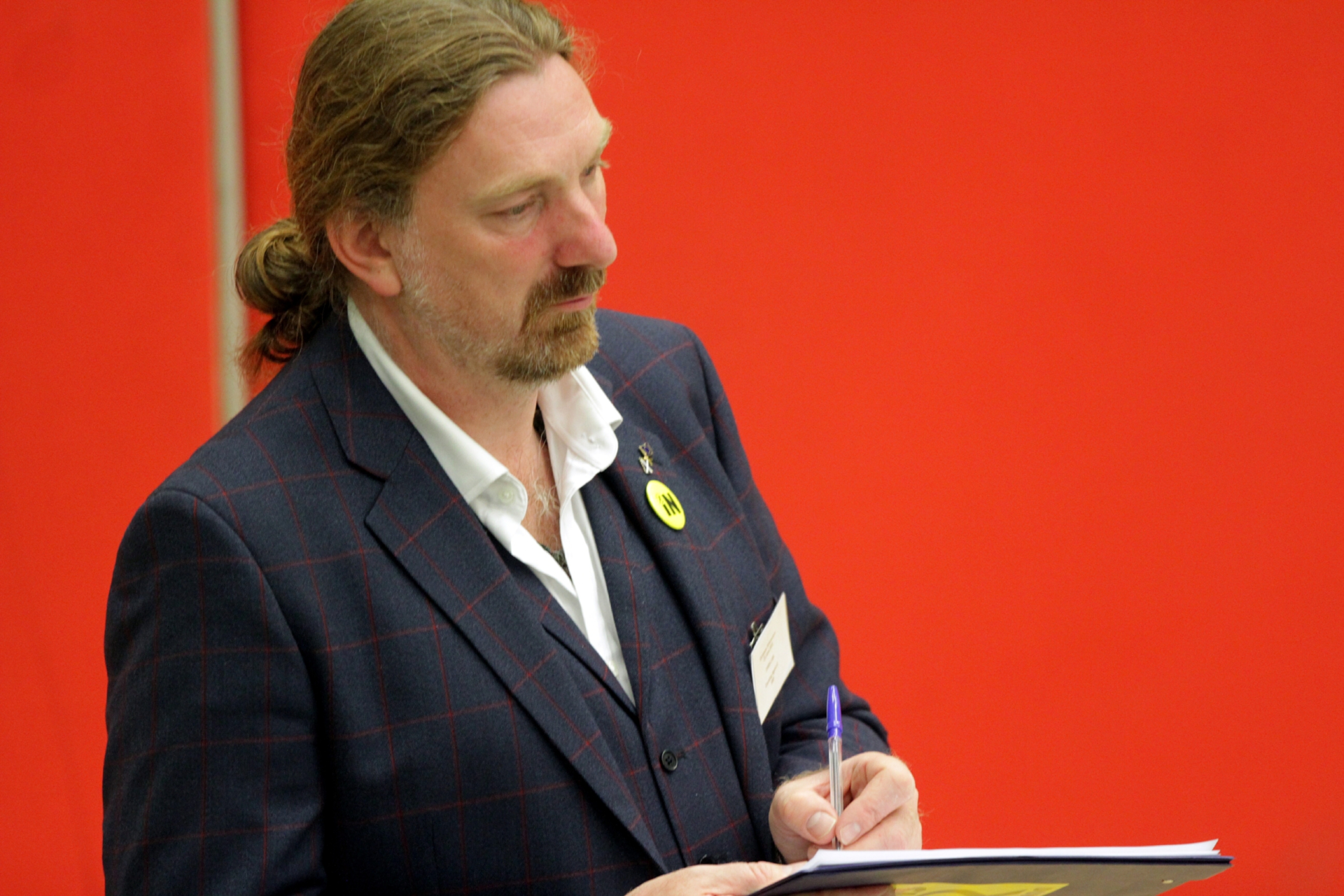 A Dundee MP has spoken about how his mother's battle with multiple sclerosis convinced him to support assisted dying.
Chris Law was just a child when his mother Jean first began displaying symptoms of the debilitating neurological condition, which affects the nerves.
She lived with the disease for 27 years before she passed away in 2000.
The 48-year-old MP is calling for more research into multiple sclerosis and has given his backing to a national campaign seeking to raise £125,000 for the MS Society.
Mr Law, who was his mother's main carer, has also revealed how watching her die convinced him to support the campaign to legalise assisted dying in the UK.
This would give people the right with terminal illnesses and just a few months to live the power to end their suffering.
Mr Law said: "From the age of about four or five I started to become aware of my mother starting to find it difficult to walk, then she couldn't walk without the aid of a Zimmer and progressed to a wheelchair.
"Me and my brother grew up not really knowing what was happening but it impacted our lives – part of the reason we came to Dundee was to get suitable housing.
"Multiple sclerosis affects the central nervous system by attacking the myelin sheaths that protect your nerves and causes pain.
"So far there is no cure and the support available is around pain relief."
Mr Law was elected to Westminster in the SNP's 2015 landslide and took part in the first House of Commons vote on assisted dying later that year.
MPs voted 330 to 118 against legalising assisted dying.
He said his decision to support assisted dying was influenced by the helplessness his family felt at being unable to help end Jean's suffering.
Mr Law said: "I was in parliament during the debate in 2015 and voted for the right to die under the right conditions.
"It's not an ideological view, it's a very pragmatic one. Each case is individual and any decision has to take into account the support services and the support of the family.
"There should be an evidence-based approach.
"It's hard to listen to your own mum tell you that she had enough, that she knows there is no positive outcome and the condition she is dealing with will only get progressively worse."
Mr Law was his mum's carer in her final months and was with her when she passed away at home.
"It is really hard to stand aside and watch your mum die," he said.
"The last thing she wanted to die was die in hospital."
He added: "I felt really torn apart by the needs and wishes of my family in the context of the way the law stands and the state we're in."
Mr Law added he barely left the house for a year after his mother's death and it was only when he attended Cruse Bereavement counselling services that he began to rebuild his life.
"I remember what they said to me: that sense of loss can never be filled.
"You need to rebuild your life around that hole. That thought is what helped me to start picking up my life again."
The Dundee West SNP MP decided to speak about his experiences in order to raise awareness of multiple sclerosis.
He said: "I never though I would be as candid but it's important that to raise awareness and for people to hear the person, not a politician."
There are currently around 11,000 Scots living with multiple sclerosis and the country has one of the highest rates of disease in the world.
Mr Law said: "Back in the 70s it was more difficult to diagnose and we have come a long way in the last 40 years.
"The figures are going up but that is because the level of diagnosis is increasing. The further north you go the percentages get higher.
He added Dundee is also leading the way in finding treatments to help multiple sclerosis sufferers.
The MS Therapy Centre in Peddie Street pioneered the use of a hyperbaric chamber to help alleviate the symptoms of the disease.
Patients spend an hour in a metal decompression chamber, large enough to seat six to eight people, while oxygen is administered via a mask while under pressure.
Supporters believe it works because the pressurised oxygen is dissolved into the blood plasma and body cells, tissues and fluids at up to 10 times the normal concentration, stimulating bloodflow and healing damaged tissue.
This lessens the inflammation in the body, minimises pain and slows down the progression of multiple sclerosis.
Mr Law said: "I met a friend at New Year who has been diagnosed with multiple sclerosis and he finds it particularly beneficial. The work in Dundee is vital and has been going on for 30 years."