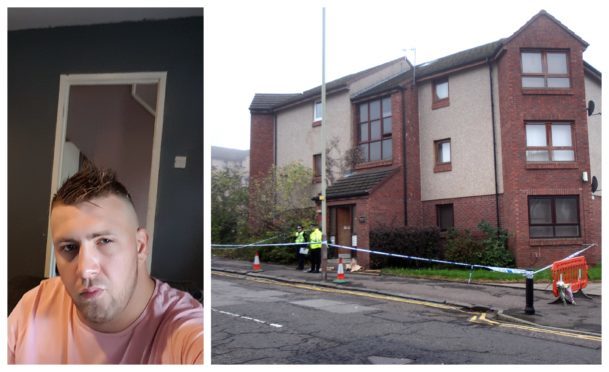 A 32-year-old man who killed a partygoer in a crossbow and knife attack during a brawl at Dundee block of flats had been suffering from mental health problems for at least a decade, a court heard.
Charles Little pleaded guilty to culpable homicide on Tuesday after killing 23-year-old labourer Gordon Diduca by stabbing him, on September 25, 2017 at Dundonald Court.
An argument had broken out after Little, who was suffering from paranoid delusions, went to a neighbouring flat with a crossbow to confront the occupants, who had been having a party.
The former gardener was convinced he was being secretly filmed by his neighbours and that a chip had been implanted in his brain allowing others to monitor his thoughts and "use them against him", a trial at the High Court in Glasgow heard.
At the time of the attack, Little had been using amphetamine drugs and these had exacerbated his existing personality disorders and anxiety, which had been developing since at least 2009, when he first came to the attention of mental health services.
The court heard the trial had been an "ordeal" for Little, who has undergone multiple assessments by forensic psychiatrists and has spent time being treated in hospital while on remand.
Mark Stewart QC, said his client's delusions included a belief that he had had an electronic chip implanted in his brain, which could be operated externally by individuals.
He added: "He thinks that his thoughts can be used against him.
"He is subject to incoming voices that he hears.
"They are hostile – the voices seek to cause him to harm himself and harm other people.
"There is a troubled background."
The court was told a GP referred Little to a community mental health team in 2009.
He had been suffering from anxiety, believing colleagues were playing an "elaborate prank" on him and attributing "strong personal significance" to coincidental events.
At the time, he was said to have been using cannabis.
Later that year, he had a brief incident of psychosis and reported he was hearing voices. This was put down to "anxious over-interpretation" as opposed to a hallucinatory experience.
He was given anti-depressants but stopped taking them in February 2010 and was discharged from the community mental health service in June 2010.
Little has now been diagnosed with paranoid personality disorder, schizoid personality disorder and some traits of anxious personality disorder.
The case has been adjourned until February 11 for criminal justice and social work reports to be obtained.