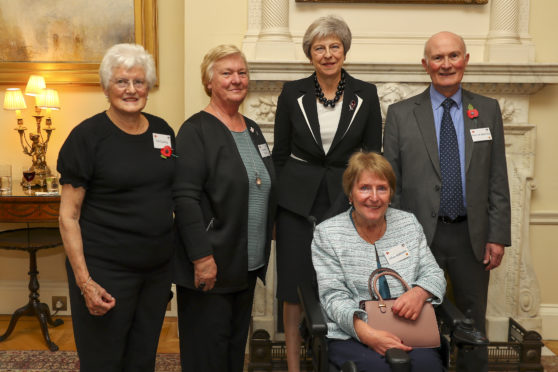 Hundreds of people living with multiple sclerosis (MS) in Tayside will benefit after a vital service was handed more than £150,000.
The cash will be used for clinic support, counselling, self-management sessions and bespoke one-to-one peer support at MS Society Scotland and MS Therapy Centre Tayside.
It comes as Dundee SNP MP Chris Law praised the centre and called for more research into the condition following the death of his mother from MS in 2000.
£132,773 will be given out over two years from the National Lottery's Big Lottery Fund to offer a new service of support for people with MS in Dundee, Angus and Perth and Kinross.
The service, called My MS, My Way: Tayside, is also being match-funded with £18,454 by the Community Innovation Fund, financed through the Tayside Health Fund, assisting more than 240 people.
The condition is often painful and exhausting for sufferers and can cause sensory and mobility problems.
In November, Prime Minister Theresa May met and personally thanked a number of MS Society volunteers from Tayside and across the UK in a reception at Downing Street.
Among those honoured was Lillian Malcolm, 67, from Dundee, who was diagnosed with multiple sclerosis in 1994 and has volunteered with the group for more than two decades.
The new project is co-produced by MS Society Scotland and the MS Therapy Centre Tayside and was created to respond to research that found significant demand for increased support services in Tayside, particularly for people newly-diagnosed with the condition.
Morna Simpkins, Director of MS Society Scotland, said: "More than 11,000 of us are living with MS in Scotland and 10 per cent of that number are in Tayside.
"Securing this funding means that we can support more people affected by MS in the area and enable those affected by the condition to improve their emotional wellbeing, resilience and ability to live well with MS."
The project was designed with input from a group of 35 local people with MS and activities will be delivered as part of a community partnership between local people living with MS, MS Society Scotland and MS Therapy Centre Tayside.
MS Society Angus, Dundee and Perth local groups played a key role in securing funding and will continue to work in the partnership.
My MS, My Way: Tayside will also provide volunteering opportunities for a further 24 people with MS over the two-year period, who will be given training to provide services and information to their peers.
Tayside Lead MS Nurse Shona Flucker said: "Offering this kind of support will enable people newly diagnosed with MS in Tayside to access emotional support, quality information and responsive support that meets their needs.
"We hope to give people with MS greater understanding about their condition and ensure that everyone has the right support."
MS Therapy Centre Tayside offer a wide range of information, support and therapy sessions for people living with MS: www.mstherapytayside.com