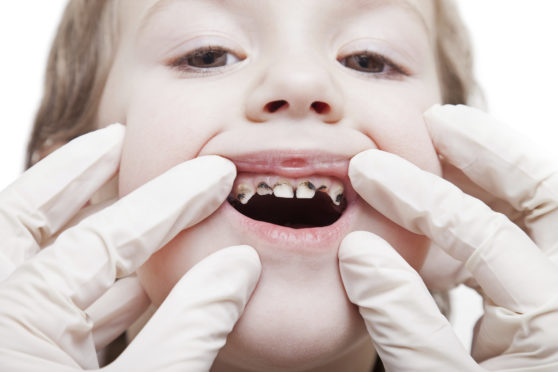 Deprivation in Dundee is so bad that some families are sharing one toothbrush for the whole household, it has been revealed.
Several primary seven children from schools in the northern area of Dundee told visitors from a dental hygiene initiative their parents did not supply them with the basic toiletry.
It comes amid major concern Dundee remains one of the worst places in Scotland for childhood teeth decay — one of the knock-on effects of poverty — per head of population.
Recent figures from the End Child Poverty Coalition show 8,000 of the city's children – or 28% – are growing up below the poverty line.
Student-led educational programme Toothy Tigers visited St Paul's RC Academy to help youngsters brush up on their oral hygiene with the school hosting around 200 P7 pupils from five local cluster schools.
The fourth and final year students from Dundee University's School of Dentistry were joined by the department's Professor Peter Mossey who said he was "really shocked" by the revelation.
Mr Mossey, who is a leading expert and researcher in dental health and also works for the World Health Organisation (WHO), said: "Some of the kids here have said they don't even have a toothbrush or there is only one toothbrush for the whole family.
"A lot of people would assume that things like toothbrushes are widely available.
"This side of the Kingsway is one of the worst Scottish Index of Multiple Deprivation (SIMD) areas in Scotland.
"The knock-on effect is that dental health locally is one of the worst and is a good example of health inequalities. It ties in with other problems such as diabetes, obesity and smoking."
The team of eight dental students put on demonstrations to the children on how to look after their teeth, showing how to brush correctly and highlighting how sugary snacks and drinks can erode enamel and cause decay.
It is hoped the programme will help to improve hygiene from a young age thus reducing severe decay or abscess.
Mr Mossey added: "We hope that this will increase awareness of Toothy Tigers.
"We want this to become a routine initiative rather than a one off.
"Ideally it will be built into the school curriculum. Behaviour change is the biggest challenge here.
"This is why we do demonstrations. If they see it they remember."
Rosaleen Sharkey, Depute Head Teacher at St Paul's, added: "We are absolutely delighted to work with Professor Mossey and the Toothy Tigers and we hope that this is the first stage in a developing partnership to improve dental health among our pupils."