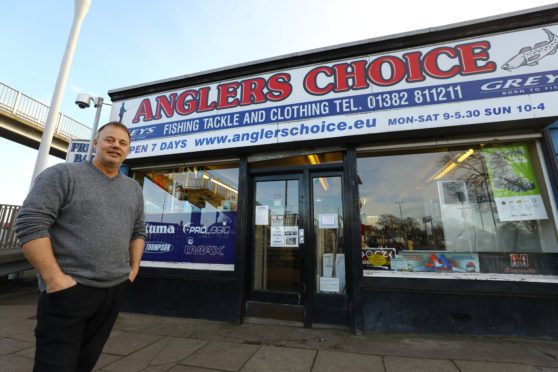 An iconic Dundee fishing tackle and sporting guns store has been put up for sale after the owner announced his intention to leave the industry and take semi-retirement.
Angler's Choice, a family run business which has served customers on Strathmartine Road for nearly 20 years, has gone on the market for £280,000, with the stock expected to fetch a further £300,000.
The shop has become well known for its vast selection of fishing and shooting apparel and the business has expanded several times, including into an adjacent former flat now being used as a large stock room.
It is the last remaining sporting guns store in Dundee and currently employs one full-time and two part-time staff members, although often hires an additional person during the busier summer months.
Owner Robbie MacGregor said he had already been contacted by one seriously interested party but is looking to sell the business as a whole after some expressed interest in buying the fishing side alone.
He said: "I just felt like the time was right to move on. I've been in here since 2000 and there's been a lot of changes since then.
"I started off in Lochee High Street and stayed there for a couple of years but I used to come here and pay my money in. I asked the owner if he had ever considered selling up and that was that.
"I've had people contact me saying they are interested in the fishing side of the business but not the guns. I'm looking to sell it as a whole and I would probably look to carry on running it if I couldn't find the right buyer.
"If I do manage to sell the business, I will pretty much semi-retire but I wouldn't stop working. I would still want to do something but I will definitely wind it down."
Hilton Smyth, the firm handling the sale of the business, said there is "tremendous scope" to increase the turnover "by undertaking in a robust national marketing campaign to generate new business".
Coldside councillor George McIrvine, whose ward covers Strathmartine Road, wished Mr MacGregor well in his efforts to sell but said he was disappointed to see an established businessman move on.
"It's important the owner secures a genuine interest in order to continue trading in what looks like a successful business with both a prosperous local shop within Coldside as well as online sales," he said.
"I feel somewhat subdued that established and respected business people in Dundee are moving out after years of service.
"Cooper & McKenzie in the city centre is finally closing its doors after 144 years and I just hope Angler's Choice doesn't follow the same path."
Mark Flynn, depute convener of the local authority's city development committee, said it was "sad" to see the shop up for sale but welcomed that Dundee was being seen as a "prime location" for a future owner to grow the business further.