When Dundee schoolchildren are asked to list words they associate with Islam, suggestions such as "ISIS", "bombs" and "terror" are often at the tip of their tongues.
However,  a pioneering outreach programme in city schools is now aiming to tackle misconceptions about the religion from a young age.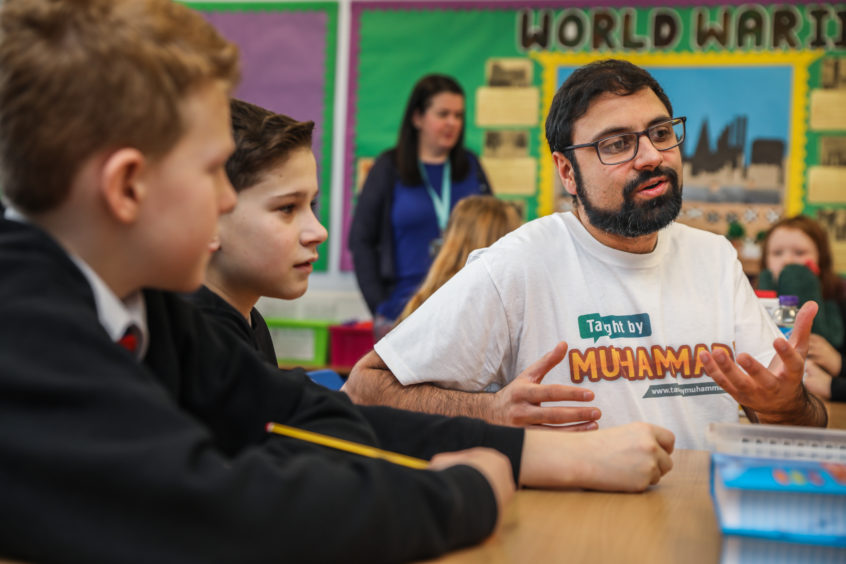 Volunteers from The Taught By Muhammad (TBM) scheme say they want to break down barriers and stereotypes and have been carrying out presentations for the past few years.
The initiative — which recently launched in its sixth secondary school — has now been extended to five of the city's primary schools, including Downfield, Rowantree and Victoria Park.
Pupils start with an interactive presentation about the foundations of Islam in which they are asked the first things they associate with the religion.
Negative misconceptions are commonly mentioned by children, who fill in anonymous forms, as well as topics such as "headscarves", "prayers", and "The Koran'".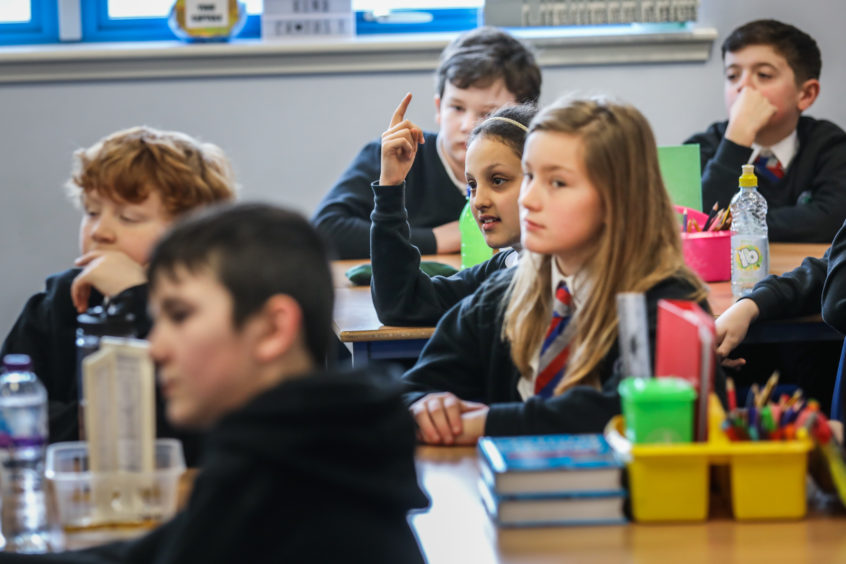 A Victoria Park Primary 7 class answer questions during the presentationTBM's Rizwan Rafik, who carries out the presentations with colleague Jenny Mabrouk, said the initiative just wouldn't work as well it does if children didn't feel they could be honest.
"This leads to an open conversation where youngsters can ask anything and everything," he said.
"It's a platform for them where there is no judgement. If they don't know a Muslim, it can be difficult.
"It's not as if they can go up to a random person in the street and ask questions."
Feedback shows 98% of pupils say their understanding of the religion has improved after taking part in the sessions.
By moving into primaries, the group hopes it can have an even greater impact.
The project works with pupils in P7 and S3.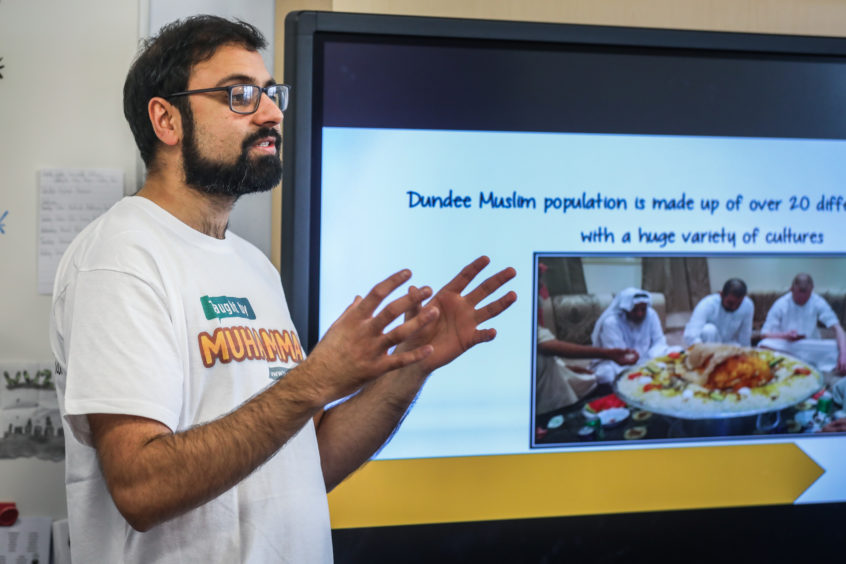 The interactive talks highlight key facts about the Muslim faith.
Rizwan and Jenny pepper their talks with anecdotes of their own experience as Muslims, which give a greater insight into a wider way of life.
Rizwan tells of a time when he travelled to Jordan, and found the differences in culture compared to Scotland confusing.
"I was invited round for tea at around 10pm," he said.
"I assumed it would be to drink tea but when I arrived, they had a huge feast prepared.
"I tried to explain that I had already eaten but they would not eat unless I was eating too.
"Out of politeness I tried to eat as much as I could. That in particular is a cultural difference, rather than religious."
Since launching in 2014, the project has reached almost 2,000 pupils across the city.
The team also go out to businesses and organisations, including the council and fire stations in Blackness Road and Macalpine Road, to talk to employees.
Rizwan's long-term hope is for the hour-long presentations to become a part of the curriculum in both secondary and primary schools in Dundee.
"That is the ultimate ambition," he said.
"To have this in all schools would be fantastic.
"We feel the initiative has a huge impact and our feedback shows this.
"The difference it has made to the views of youngsters is amazing."
Victoria Park teacher Sarah Mitchell said the presentation had had a hugely positive impact on her class.
She said: "We have a very high percentage of Muslim children in our school because of our catchment area being so close to the university. But for our children to learn that wee bit more about Muslims and the Islam faith is very important.
"They were able to show off what they already know too. They knew footballers and other famous faces mentioned in the presentations.
"This kind of thing can definitely improve understanding between children."
Pupil Ruaridh Duncan added: "Some of the things we learned include that Muslims, Jews and Christians all believe in the same God but in different views."