Sustainable transport charity Sustrans says it has now fixed a "troublesome" cycle counter which was incorrectly clocking dogs and people in Broughty Ferry.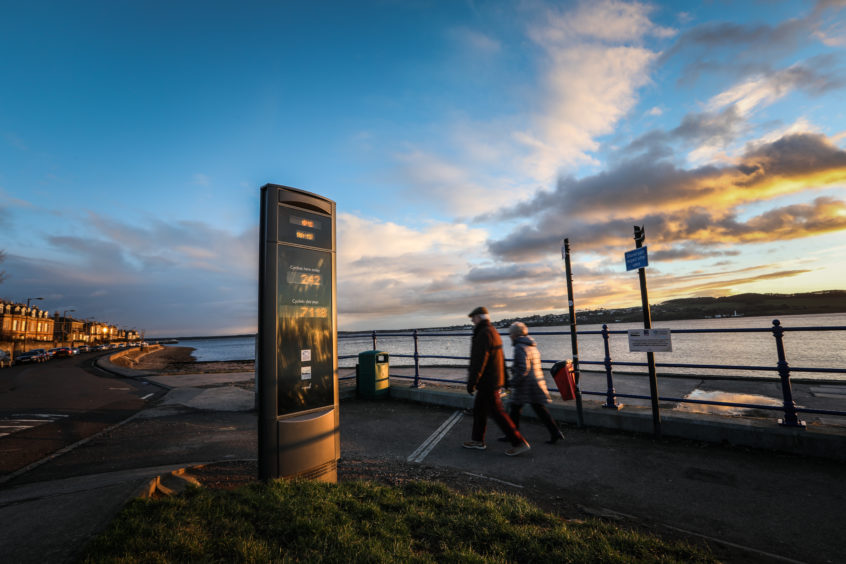 It had been claimed the state-of-the-art counter installed in the Dundee promenade was inaccurate – after a video (see top of this pahge) showed glitches in its recording.
Local Liberal Democrat councillor Craig Duncan claimed it had incorrectly registered his two dogs as bicycles, while other walkers said pushchairs had been registered by the sensor.
The Douglas Terrace device, as well as those installed across the country, is now being analysed by the manufacturers in an effort to correct any issues.
Broughty Ferry councillor claims cycle counter is 'inaccurate'
Ross Miller, senior project officer at Sustrans Scotland, said the actual number of cyclists would be within 5% of that estimated.
He said: "We are aware of the issues with some of our Hi-Viz cycle counters.
"We've been working in partnership with Dundee City Council and our service provider Falco to get the issues resolved.
"A health check on all 14 of the counters throughout Scotland was carried out last week.
"As far as we're aware the counter is now working as designed, and we will continue to monitor it to ensure this is the case."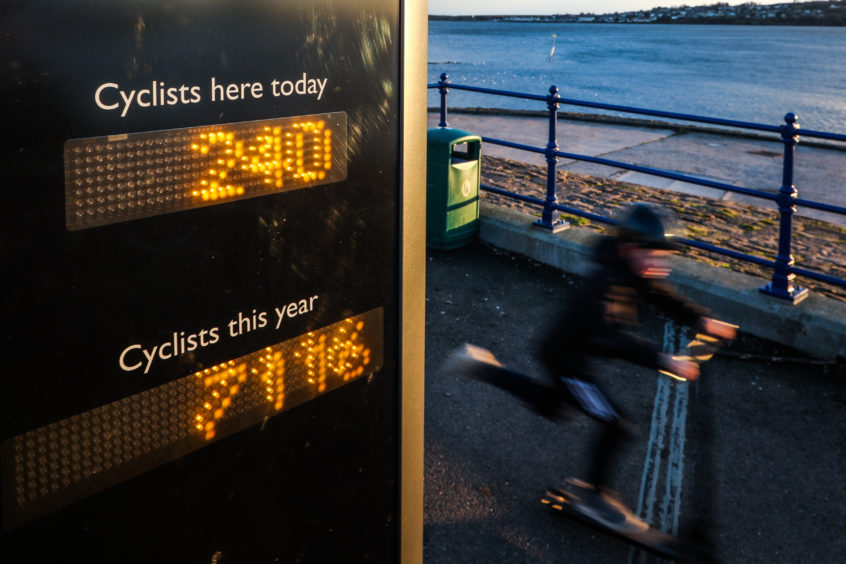 He said there would always be a margin of error in any count of bicycles.
"This is factored into any reporting we present," he said.
"Generally speaking, a 5% margin of error can be applied to this type of equipment."
John Lauder, deputy chief of Sustrans and national director for Sustrans Scotland, Northern Ireland and Republic of Ireland, previously described the counter on the promenade at Broughty Ferry as "troublesome".
Last year Dundee City Council said more than 50,000 cyclists had passed the device since it was switched on in June.
SNP councillor Kevin Cordell, the local authority's cycling spokesman, previously refuted any suggestion the level of cycling was not as high as the counter claims.
He said critics only had to visit the area to see how well used it is by cyclists.
His SNP colleague Lynne Short, the council's city development convener, said: "From a city development point of view any active travel options should be applauded so that dog walker, pram pusher or runner is just as much welcome on the new pathway connecting Broughty Ferry and the city centre, as the increasing number of cyclists we expect, when the weather becomes more pleasant."