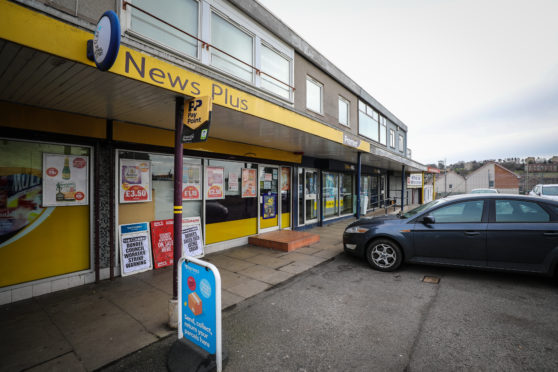 A brave shopkeeper scared off a would-be teenage robber wielding a 12-inch butcher knife and a claw hammer in Dundee.
The Premier News Plus store, just off Buttar's Loan in Charleston, was targeted shortly before 6pm on Monday by a masked youth believed to be aged around 18.
He brazenly walked into the store holding a rucksack before opening the bag and showing the weapons to the shocked worker.
The 47-year-old managed to scare him off empty-handed when he pointed to the many cameras in the store, located at the junction with Buttar's Road.
But he only narrowly avoided serious injury when the thug flung the hammer at his head while fleeing.
The part time shop assistant, who did not wish to be named, said the whole incident was was over in a matter of seconds.
"He came in, walked up to the counter and took the knife and hammer out the bag to show me," he said.
"It was a 12 inch butcher knife — it was huge. The hammer wasn't much smaller.
"As soon as I told him that there are cameras everywhere though, he just panicked.
"He looked around and then ran towards the exit.
"I was watching him run towards the door before he suddenly turned and threw the hammer at me.
"It only just missed me and hit the wall behind the counter.
"It could have really hurt me if it had connected."
Police are now on the hunt for the hapless teen, who is described as about 5ft 9 with a slim build and short black hair.
He was wearing a black hooded top with the hood up, black bottoms, a grey and navy blue mask with eye holes cut into it, and carrying a green rucksack which contained the knife and hammer.
The shopkeeper added: "A lady standing outside saw everything so she was able to give a witness statement as well.
"I've never been threatened like this before and never been robbed.
"Thank God nothing worse happened.
"He did not look very old at all. He was 18 at the most I would say."
A Police Scotland spokesperson said the incident occurred at 5.45pm.
He said: "If you saw anyone matching this description in the Charleston area about that time, or if you have any other information that could assist our enquiries, please call 101 or speak with any police officer.
"Also, information can be given anonymously through Crime Stoppers on 0800 555 111. Our reference is CR/4389/19.