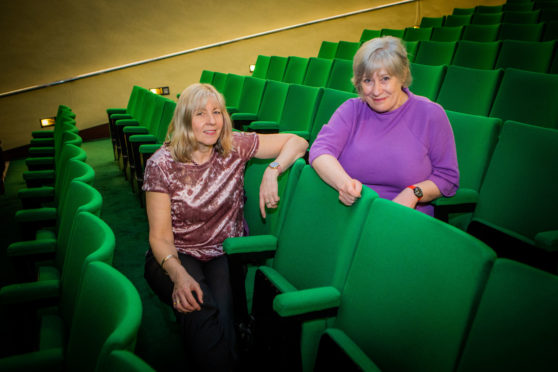 For more than a century Dundonian women have been hailed as hardworking, feisty and strong-willed.
From the suffragettes to mothers juggling working in the jute mills while running a family home, the city is often referred to as 'She Town' due to its strong female workforce, both past and present.
But they have been consistently paid less than men and faced glass ceilings through discrimination and barriers in the workplace.
The Feisty Women campaign is fighting to ensure they are fairly paid for their efforts, after decades of inequality, all the while supporting women find work and set up their own businesses.
Dundee City councillor Anne Rendall and co-founder Ann Porter are fully fledged members of the "double burden" generation.
They launched Feisty Women three years ago to fight for a fairer deal for women reaching the end of their working lives, in response to the 2011 Pensions Act, which added up to six years to the retirement age for females born in the 1950s.
More than 8,000 women in Dundee will lose an average of £45,000 of state pension payments as a result of the change, rising to almost 300,000 in Scotland and more than three million in the UK as a whole.
Men will lose around £3,000 in unpaid pension payments through the changes.
This weekend Feisty Women will relaunch as a registered charity and the founders hope to offer immediate practical support to 50s-born women, alongside launching a civil court case for compensation.
Anne Rendall said: "We are losing six years of pensions which amounts to about £45,000, but on top of that we have also been discriminated against throughout our whole lives.
"We have faced gender pay gaps, which still exist but are getting much better, then we had to leave work and have babies. If you were able to return it was part time, often at a lower grade and you didn't have the same career opportunities as when you were full time."
Fellow Feisty Women founder Ann Porter said the facts speak for themselves to show the discrimination women have faced during the pension changes.
"The Department for Work and Pensions (DWP) and UK Government ministers have argued these changes are fair and proportionate for women our age," she said.
"But there's a raft of evidence to show our lives have been so different to men of the same age. We don't earn as much, we had to work part time and take time off for the children.
"Equality is not about doing the same for everybody, it's about doing what is fair and this has been unfair on every level. What we are fighting for is based on facts and evidence, this is not our subjective views."
The state pension age was changed to bring women's retirement in line with men's but campaigners say the sharp increase has disproportionately affected females.
The DWP is expected to save £40 billion in the next 10 years, of which £30 billion will come from unpaid state pensions to women.
Government ministers have justified the changes by saying they will result in an equal retirement age for men and women. They also say females will receive more state pension than ever before, due to increasing life expectancy.
Ann and Anne, who will both now retire at 66 instead of 60 as they previously thought, are working towards launching a civil court case against the DWP, to ensure financial compensation is paid to those affected.
This differs from the judicial review won by the national Women Against State Pension Inequality (WASPI) campaign, as the Feisty Women founders say this will only result in a public apology and policy change for future generations, with no financial gain for women already in their 60s.
Ann Porter said: "WASPI focuses on maladministration which we don't feel is the most worthwhile.
"Even if it's successful will there be any money coming back to the women? No. The worst that will happen is the DWP will get a slap on the wrist and told not to do it again."
Feisty Women will relaunch as a charity at the Steps Theatre today, as part of the first day of this year's Dundee Women's Festival.
Organisers are expecting 150 people to attend the event, hosted by journalist and broadcaster Lesley Riddoch, and hope to spread their message and seek financial support.
The charity has launched a crowdfunding campaign to rise £5,000 to pay legal fees for the civil challenge.
The determined duo know they face a lengthy battle and want to support the women in Dundee and beyond who have been pushed into poverty by the changes.
Now the group has charitable status, they are applying for grants which will allow them to hire a development worker and find a base. Eventually they hope to support women facing gender discrimination.
Ann Porter said: "Some women have been thrown into real poverty and distress over this, particularly in Dundee which isn't as affluent as other areas.
"We know this campaign is going to take years and may involve a change in the law so we want to address the immediate need in a practical way in the meantime.
"It's very early days but we're looking at what kind of help women need to earn money, get back into work. We're also very keen to build women's confidence and give them a voice.
"Women over 60 are perceived to be older than men over 60 and are perceived to be unemployable.
"I've gone for a routine blood pressure check and had a nurse say to me 'it's good you keep yourself busy' and I was horrified. I see myself as an entrepreneur and social activist and she saw someone elderly.
"We want to offer direct practical help but there are a lot of attitudes to change."
Dundee Women's Festival runs until March 16, featuring workshops, conferences and entertainment. On International Women's Day on Friday March 8, organisers will lead a guided walk around the city centre with tales of notable women in Dundee's history.
A full programme is available at www.dundeewomensfestival.org.uk.