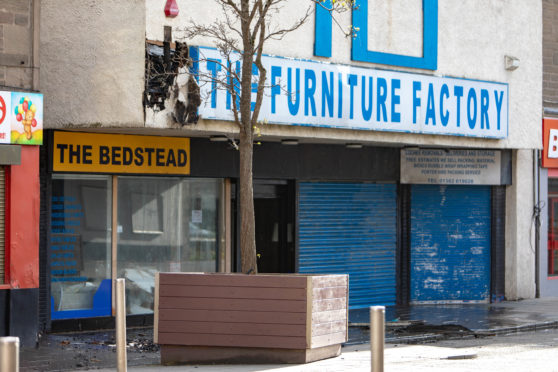 The future of a Dundee store ravaged with fire at the weekend remains a mystery.
The Furniture Factory, which houses the Bedstead and Lochee Removals on Lochee High Street, caught fire in the early hours of Sunday March 3. It is thought it was the roof that caught fire.
Tayside Police has launched a joint investigation into the cause with Scottish Fire and Rescue Service (SFRS).
A director of BBK Associates Ltd, who own the premises, said they were still waiting for an update on the inspection. He added they would not know what the future holds for the store until that is complete.
Police were still in attendance late on the evening of March 5, nearly three days after the blaze. The size of area cordoned off was reduced, allowing neighbouring business owners access to their shops.
A closing down sale advert remains in the window of the Bedstead.
A nearby business owner said they were lucky the fire did not spread to other premises.
The man, who asked not to be named, added that nearby residents were taken to a police station while firefighters were tackling the blaze for their safety and were not allowed back into their homes until at least Sunday night.
And he said that footfall on the street has already taken a hit because of the lack of access for cars.
These sentiments were echoed by Jayne Kelly, of local campaign group Save Our Lochee High Street. She said shop owners fear the worst.
"We have spoken to a few traders and there is a big concern," she said.
"Fencing has gone up and that has stopped traffic going in and that is a problem. The shops are struggling anyway and many of the business in Lochee are here because of loyalty rather than making a lot of money."
Jayne added that the prospect of the Furniture Factory being lost has stunned the community.
"It is probably the second best-known landmark n Lochee after the big church and people have been coming down to see it and just staring," she said.
Ms Kelly also said the group are planning to organise a meeting for the public to attend and "discuss the way forward".
A SFRS spokesman said: "We don't know when High Street will be open again. It may reopen when the investigation people are finished, but we are unsure of the timing until everything is completed."