Michael Alexander follows in the footsteps of 19th century Dundee doctor Thomas Wise whose rare artefacts are on display at The McManus.
He was the 19th century Dundee-born doctor and estate owner who worked in India as a physician and surgeon, and is famous in West Bengal for establishing the first hospital in Chinsurah.
In his spare time, he collected everything from Egyptian amulets to Irish copper axes, and also wrote treatise on everything from the Hindu system of medicine and Buddhist imagery on Pictish stones to diseases of the eye and the preservation of ice.
But as a new exhibition showcasing the curiosities of Dr Thomas Wise goes on display for the first time at The McManus in Dundee, the museum's curators do not think many people in his home city will have heard of him.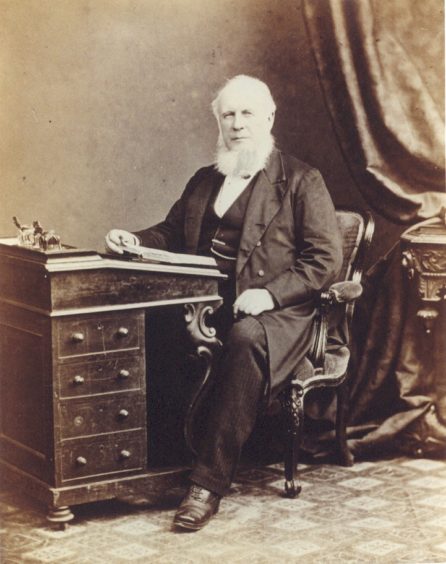 That's despite Thomas Wise Place having been named after him near Ninewells Hospital and an exhibition at the Tayside Medical History Museum in the 1990s.
Born in Dundee on January 12 1802 at the family estate of Hillbank, Dr Thomas Wise's pursuit of a medical career followed that of his father Thomas who had been a physician in Jamaica.
The young Thomas studied medicine at Edinburgh University, graduating in 1824.
In 1827, he took up a position with the Indian Medical Service.
He had two brothers already working in India, younger brother Josiah Patrick as a merchant and an older brother in the military branch of the East India Company.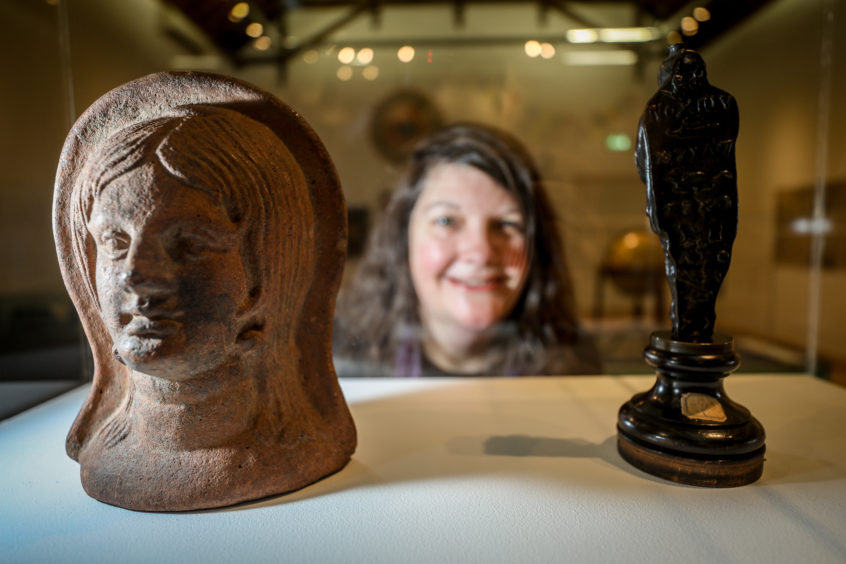 A true polymath, he was dedicated to further understanding the communities from which he collected.
During his time in India, he contributed to both medicine and education, founding a hospital and college and becoming the Secretary to the Committee of Public Instruction in Calcutta.
When he retired from India in 1851 and returned to Scotland, he dedicated his life to archaeological and educational interests and belonged to a variety of scientific and antiquarian societies.
He later moved to London where he died in 1889.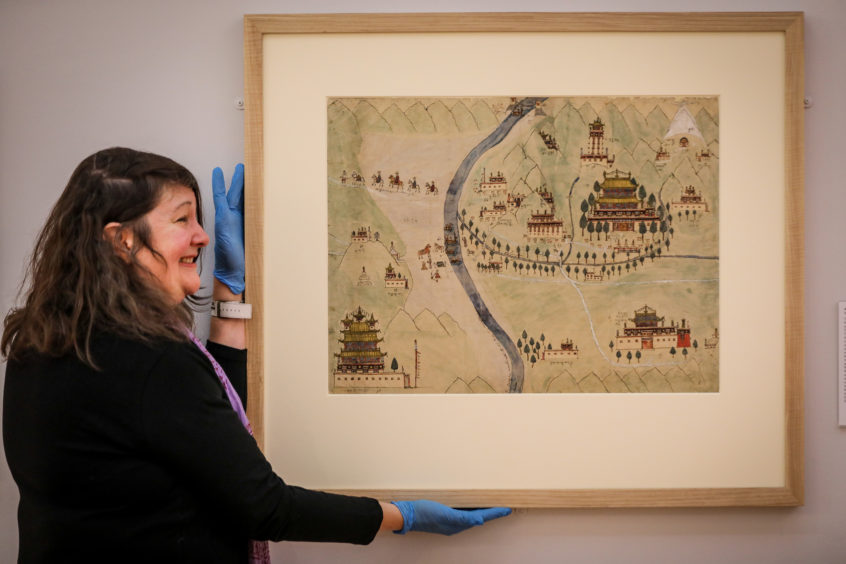 Now, thanks to a loan from the British Library, 'Wise Ways: Travels of a Dundee Doctor' which runs at the McManus until August 25, reunites a rare set of maps of Tibet with objects that Dr Wise collected on his journey and to those he only visited in his imagination.
"Dr Wise was of his time – post enlightenment but classically educated and interested in everything," said McManus curator of early history Christina Donald, who explained how 'Wise Ways' gives a fascinating insight into his extraordinary life and the objects he gathered during his expeditions around Tibet, India, China and  Japan.
"Raised in Dundee, he graduated from Edinburgh with his MD at a time when if you had a Scottish medical degree you couldn't practice in England – so a lot of Scottish doctors ended up in the Empire. He ended up in India.
"Medicine was his first priority. He was one of the first to treat people in hospital from the native population, and he trained up people in the western medical style.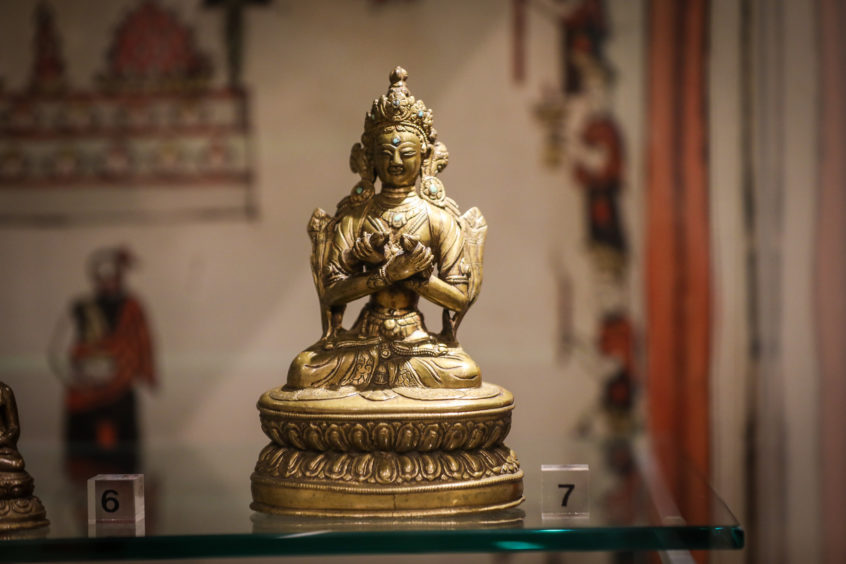 "But he was also collecting things. He seems to have spoken to people.
"He learned Sanskrit because he was interested in the Hindu system of medicine because its treatment of small pox and things was way ahead of treatment at the time in Europe.
"I guess his medical knowledge helped give a different insight. He wasn't just collecting objects he was looking at them and using them in his theories."
Entering the exhibition hall on the upper floor of the McManus, the eye is drawn to the far wall where a colourful, geometric pattern of the mandala captures the spiritual and ritual symbolism of Hinduism and Buddhism, representing a microcosm of the universe.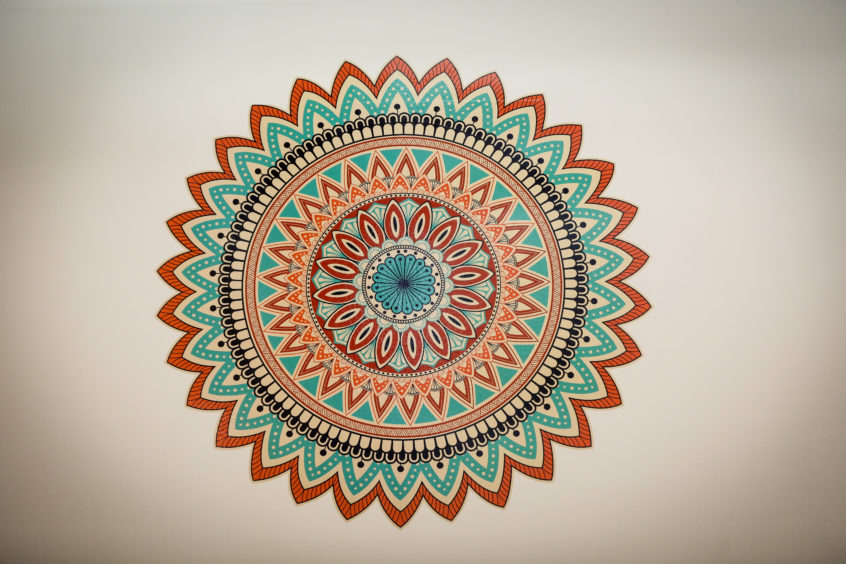 The all-encompassing artwork is an apt backdrop given the geographically and culturally diverse rare and priceless objects on display ranging from an 18th century bronze Tibetan figure of Chen-re-zi to a 19th century North Indian figure of Krishna.
"We chose the mandala design because it was something not tied to a specific culture," explained Christina.
"Because the exhibitions covers so many cultures, we thought we could use something that ties it together."
The curator said Dr Wise seems to have purchased some objects from places he never visited and received some as gifts.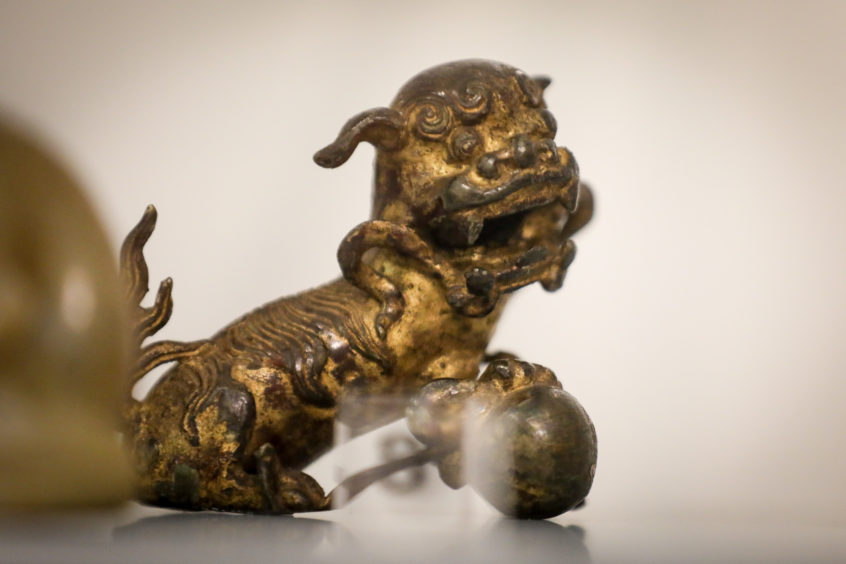 However, there is otherwise very little detail as to how he acquired his collection, which he donated to the fledgling Queen's College (later Dundee University), before it was passed on to the council in more recent times.
"A notebook came with the collection but it doesn't say very much – it maybe lists a couple of sentences of where he obtained things," said Christina, adding that most seemed to have ritual and ceremonial purpose – not reflective of everyday life in the 1800s.
Tibetan objects include a figure of Jetsun Dölma who is the goddess of childbirth in Tibet, and a figure of Dorje Chang who is a guardian of the Buddha. He has his arms crossed over his heart in a gesture of victory over a wrathful deity.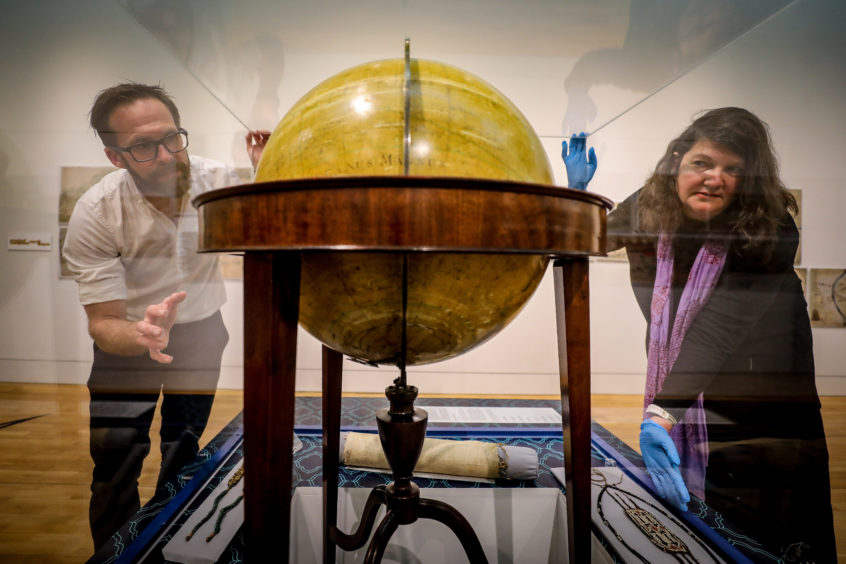 Indian objects include the Hindu sun god Surya Naryana – represented by a head in the centre with radiating points on either side – and conical mounds decorated with serpents.
The naga, King cobra, are protective guardians associated with Shiva and fertility.
However, another range of striking objects are the Tibetan 'maps' on loan from the British Library and displayed with the other artefacts for the first time..
The unique collection consists of large-scale visualisations of the local topography of Tibet and the western Himalayas drawn in the mid-19th century by a local artist 'from memory'.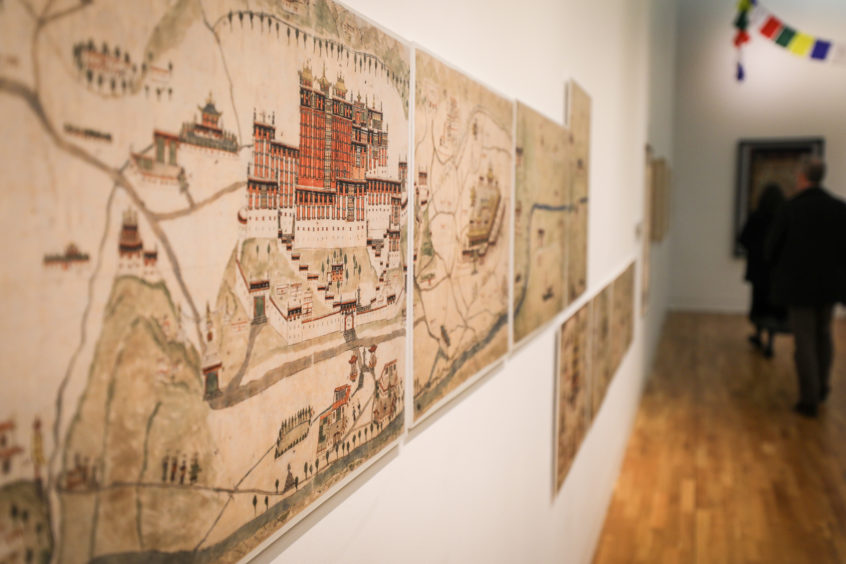 They were commissioned in the 19th century by another Scotsman – Major William Edmund Hay, former Assistant Commissioner of the Kullu district in the Western Himalayas. – to show the Silk Road and later acquired by Wise.
"They are a separate Wise collection," explained Christina.
"When Wise moved to London and when the British Library and British Museum were the same thing, he gave them this collection of maps and they were bound into these manuscript books and called the Wise Collection.
"Only within the last couple of years has it been realised it was a Major William Edmund Hay who commissioned them.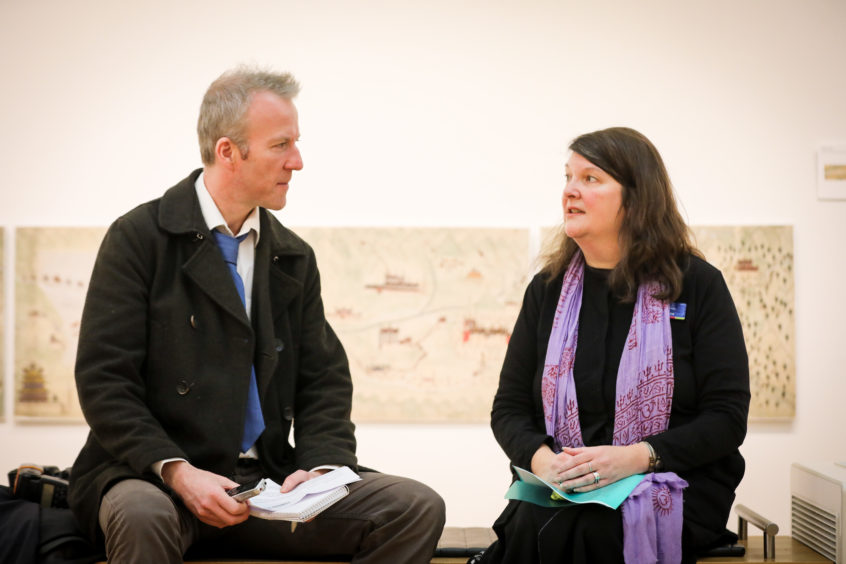 "You couldn't enter Tibet at that time but the British and the Russians were both interested in it.
"They had all these sneaky ways to see the lay of the land. Hay commissioned a local artist to draw the Pilgrim route from memory. You can still follow it on the ground. It's not cartographic but pretty accurate with river crossings and monasteries.
"It's one of the few large scale maps of Tibet at the time, and he records people doing various activities.
"There's little things like a monastery had a fire and was repaired – so you can date it from the fact it had a new roof.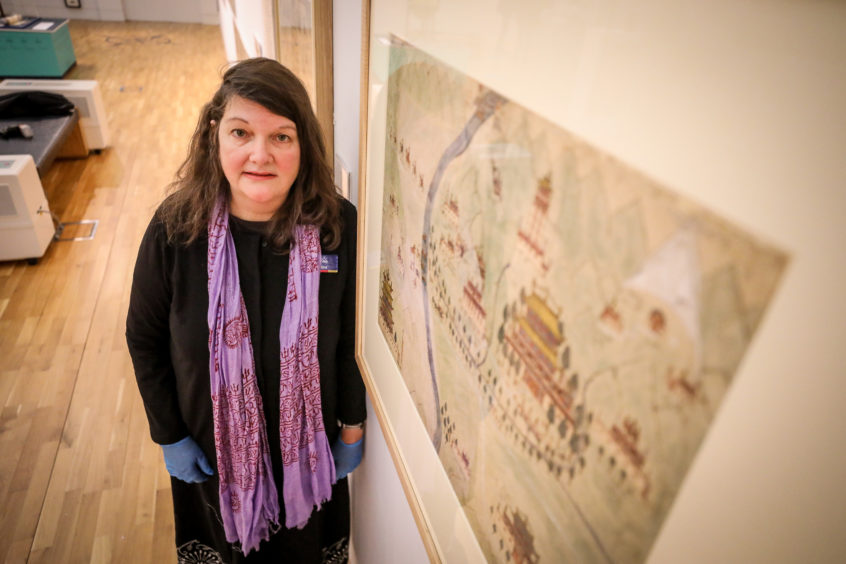 "Even though it looks cartoony, it's detailed enough that you can pick up these things that help to date it.
"Plus most of the paper is European water colour paper so it has a watermark. You can date the paper as well."
While Wise spent most of his working life away from Dundee, he never severed his ties with the area.
He kept the family house at Hillbank – even though bits of land were being sold off – and also lived at Inchyra and at Belmont Castle, Meigle.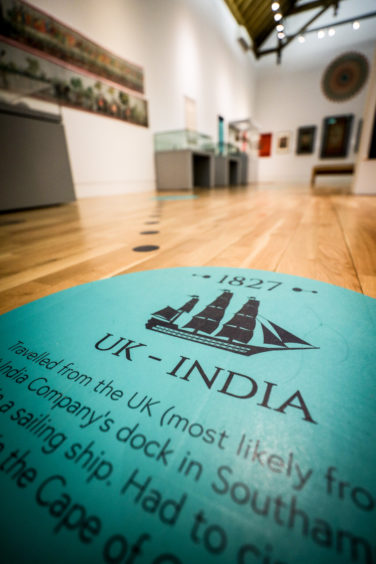 The fact he donated his collection to Dundee before moving to London also suggests he wanted to "educate" the city, it's been suggested.
Yet Christina added: "I don't think he's really known in Dundee at all to be honest.
"He's well known in India. People there recognise his name. One of his sons James Norton Wise was also a doctor.
"And there's a building in India which is named after him. I hope people in and around Dundee will now take the opportunity to come in and find out more!"
*The Wise Ways exhibition is free to visit at The McManus: Dundee's Art Gallery & Museum and runs until Sunday August 25, 2019. A number of evening talks and activities for children have also been planned.