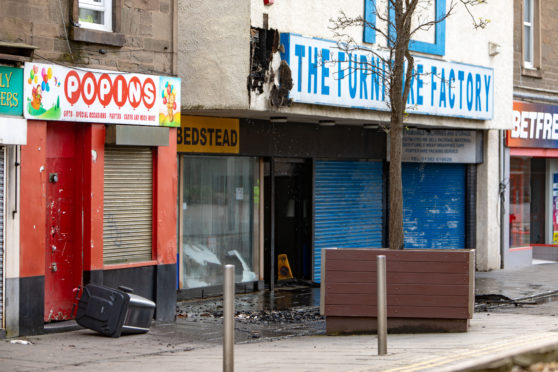 Police probing a major blaze at a well-known Lochee furniture store are treating the incident as suspicious, it has been revealed.
The Furniture Factory on Lochee High Street was left gutted and "unstable" after flames tore through the property at around midnight on March 2.
Investigators, who are still poring through CCTV footage of the hours leading up to the blaze, now believe foul play may have been involved.
Police Scotland kept up an increased presence throughout the area immediately following the incident and later launched a joint investigation with officials from the Scottish Fire and Rescue Service.
The force confirmed on Tuesday that the inquiry was continuing and said officers were currently treating the matter as "suspicious".
A spokesperson said: "A thorough investigation of all nearby CCTV sources is currently being undertaken, and we would like to ask anyone who was in the area from about 11pm on the Saturday until about 5am on the Sunday to contact us if they saw, heard, or were generally aware of anything that they feel we should be aware of.
"It would be particularly useful if anyone who was driving in Lochee High Street or the nearby streets around that time with dashcam footage could get in touch.
"If you have any information that could assist us, please call 101 or speak with any police officer."
Six fire engines, including an aerial appliance, were called to tackle the flames early on March 3 as firefighters battled to bring the blaze under control.
The second hand furniture shop, formerly the site of Cherry Video and William Low's supermarket, suffered extensive damage to its upper storey after the fire spread from the roof space.
Eyewitnesses said the surrounding residential properties were "soaked" as fire crews fought to curb the spread of the fire and one individual was treated by emergency workers from the Scottish Ambulance Service at the scene.
Earlier this month BBK Associates Ltd, which owns the premises, said it could not comment on the future for the site until investigations and inspections had been completed.
Business owners in the area have reported a downturn in trade since the fire and concerns have been raised over the potential impact of any permanent closure on the local economy.