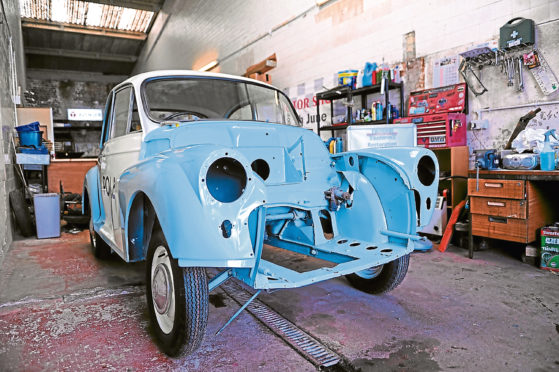 As a geeky kid growing up in the 80s I loved cars.
I can well remember my excitement when the Ferrari Testarossa was first released.
The Prancing Horse's new flagship was the epitome of cool. Fast, with built in go-faster stripes to make it even faster.
It was everything a little boy could ever hope for.
Then I saw a poster of the Lamborghini Countach and fell in love.
It was a snarling bull of a car, one that made everything that had gone before look, well, less.
I was an F1 fan as a teenager (I remember watching Michael Schumacher's debut season with Benetton and thinking he couldn't lace Nigel Mansell's boots) but my real love was rallying.
Great Scot Colin McRae was my hero.
A man with a gung-ho attitude who had more talent in his little finger than anyone else I had ever seen.
When Colin was behind the wheel you knew something remarkable was going to happen.
That could be a barn-storming run to a world title, but with Colin it equally could mean him being airborn or upside down in a ditch.
The unpredictability, the adrenaline rush that watching a master of his art giving it the beans on a road where no-one else would dare, was so visceral, utterly enthralling.
I remember the excitement of trips to Doune Motor Museum in Stirlingshire to watch the many hill climbs and, once I became a driver, heading through to Knockhill in Fife for a track day thrash.
All of these memories came flooding back last week when, to my shame, I made my first ever visit to Dundee Museum of Transport.
And what a gem it is.
It is not a motorsport-focused museum like I remember Doune being, but a genuine journey through this city's motoring heritage.
I was particularly taken by the original Dundee tram that DMoT is in the process of restoring.
It is a mammoth project. But one I can see the delight in and importance of.
I loved the old fire engine, the bamboo framed replica of local aviation pioneer Preston Watson's early aircraft, the old corporation bus and, of course, Chitty Chitty Bang Bang, the car that inspired one of the greatest kids' movies of all time.
Over four exhibitions halls there is so much more to take in and enjoy (Sinclair C5 anyone?).
Dundee Museum of Transport was an unexpected thrill, but all the better for it.
I'll definitely be back.
Get in touch with your local office at Dundee or send a letter to The Courier at letter@thecourier.co.uk