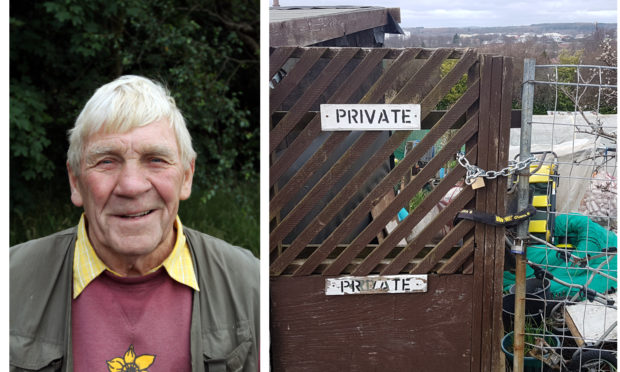 A pensioner who barricaded himself into his allotment shed in an attempt to avoid eviction has left the Dundee site.
Don Elder locked himself into his shed at the West Law allotments on Tuesday and vowed to stay until he was forcibly evicted.
The move followed an argument between Mr Elder and the West Law Allotment Association who govern the plots.
Daffodil enthusiast Mr Elder, 75, was told he was being evicted and had to leave his allotment by Friday March 15.
He appealed the decision but lost and so decided to camp out at his shed with only a sleeping bag and some food.
A padlocked chain was put at the entrance of Mr Elder's plot in an attempt to keep him out but he managed to gain access.
This Dundee pensioner has barricaded himself in his allotment shed
He then added a further padlock and chain to keep him secure while he slept in the shed during his one-man stand.
Talks have now taken place between Mr Elder and the association and he has agreed to stop his sit-in – but threatened to barricade himself into his shed again if he is not allowed to collect his items.
---
>> Keep up to date with the latest news with The Courier newsletter
---
Mr Elder, of St Leonard's Place, said: "The association rang the police to say that I was trespassing.
"The police though said it was a civil matter and that I should be allowed to get my things from the plot.
"They put the chains back on so I couldn't get in and said it was to keep my things safe. I told them to give me the keys and they did.
"If they hadn't done that I would have gone back into the hut and stayed there.
"They still want to evict me and I am frustrated and I am starting to get angry now."
The protester, who has paid the rent on his allotment until October, used to be a member of the association and has tended his plot for 20 years, visiting the site most days. His wife Hazel is an association member and she also has a plot on the site.
Nobody from the West Law Allotment Association responded to a request for comment.