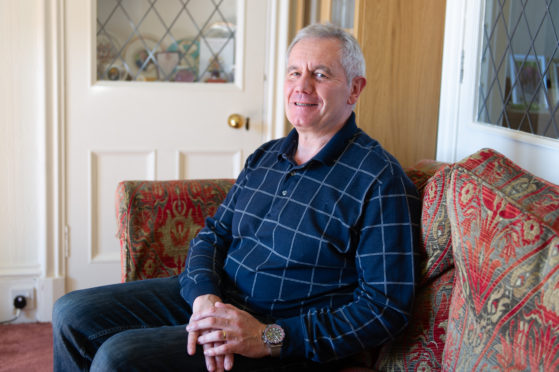 A former oil rig worker who was forced to retire due to Parkinson's disease is backing moves to raise awareness of the condition.
Martin Birks, 63, will be at Ninewells Hospital in Dundee on Thursday to offer advice and information to members of the public.
The event is taking place as part of World Parkinson's Day.
More than 70 buildings across Scotland will also be lit in blue to spread the word about the condition.
Martin, of Dalhousie Place, Arbroath, was diagnosed with the degenerative disease six years ago when he was working offshore in the Mediterranean.
Looking back, he believes the symptoms started to materialise three to four years earlier.
He said: "My wife, Pamela, noticed I was shuffling a bit.
"She was seeing a physio at the time and she told her about it and the physio said I should get checked out."
He was given an MRI scan on the brain in case he had a tumour. When that proved negative, he was sent to another hospital in Edinburgh where specialists confirmed he had Parkinson's.
"I think my wife was more shaken up then I was when we got the news," said Martin.
"I just got on with it.
"If the condition gets worse I increase the medication but it makes me sleepy.
"My wife gets very upset and I can see it in her face as she cares so much and she does not know what is happening."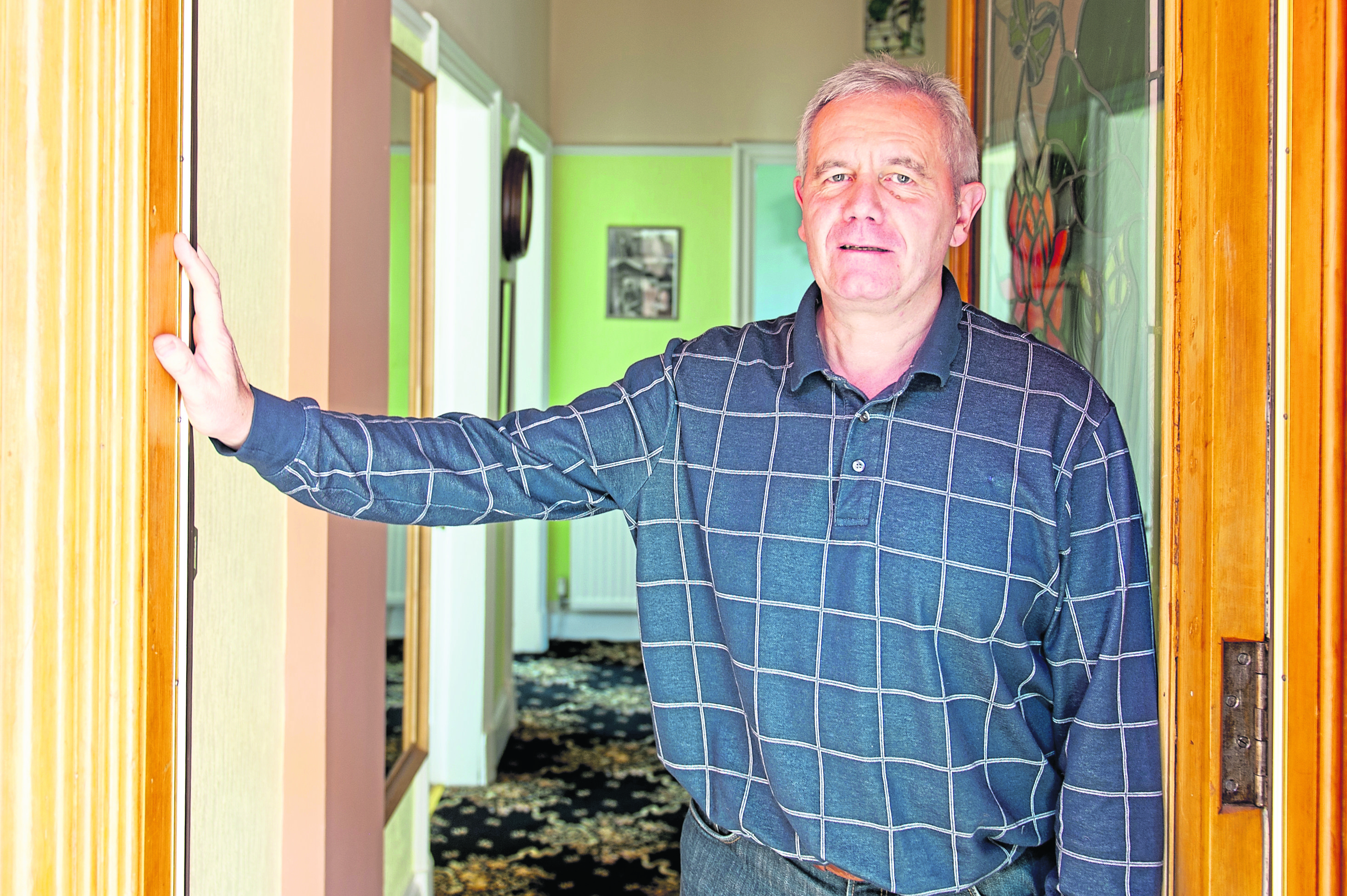 He was able to continue working for a while since he did not suffer too badly from the tremors that affect a lot of Parkinson's patients.
However, he did have to walk round the oil rig's heli-deck every day to reduce stiffness.
When walking became too painful he retired four years ago.
"I knew that it was going to get worse and that I would have to increase the medication over time," he said.
"Now I take the dog out to stretch my legs and do stretching exercises daily. I also go to two sports centres to see specialist staff to improve my mobility and do gentle circuit training."
Martin said he was grateful for the advice and support he had received from the charity Parkinson's UK Scotland and wanted to do his bit, by helping to man an advice and information stall at Ninewells today.
A study, published by the charity to mark World Parkinson's Day, reveals 83% of sufferers say they have been laughed at and 58% have cancelled or avoided social situations due to embarrassment over their symptoms.
One in five say their imbalance has been mistaken for drunkenness and 17% believe they had been judged for using a disabled parking space or toilet.
Annie Macleod, director of Parkinson's UK Scotland, said: "Parkinson's can be brutal and has more than 40 recognised symptoms.
"It affects people of all ages, and typically has a massive impact on every aspect of someone's life.
"We're delighted that so many places will be showing their support for the Parkinson's community by lighting in blue for World Parkinson's Day."
The Courier's headquarters in Dundee is among the landmarks taking part, along with the Caird Hall, the NCR Building, Slessor Gardens and the Whitehall Theatre.
In Angus the Carnoustie Golf Links and Blu Restaurant are taking part, while Perth and Kinross venues include the Cherrybank Inn, Norie Miller Walk, the Perth and Kinross Council building, Salutation Hotel and Scone Palace.
In Fife St Salvator's Chapel, St Salvator's Quad, in St Andrews and Seaforth House, Burntisland will be lit up.
A list of all Scottish buildings to be lit is at www.parkinsons.org.uk/scotland, on Twitter at @LightParkinsons or hashtag #LightUpScotlandForParkinsons