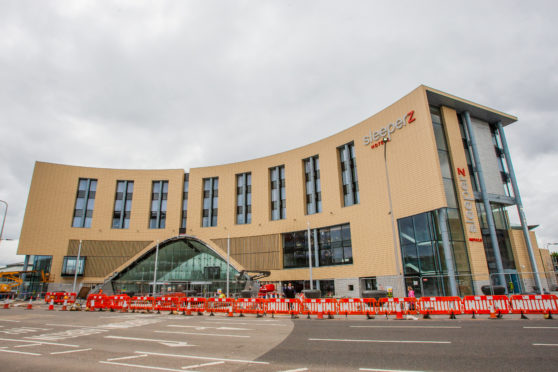 A teenager has been jailed after threatening to bite off police officers' noses and rape their families during a disturbance at Dundee train station.
David Conroy, 19, committed the "vile" offence just four days after he was released on bail as part of another matter.
He was reprimanded for sniggering in the dock while the details of his behaviour were being read out in court.
Sheriff Derek Reekie told him the situation was "not amusing" and jailed him for five months.
The court heard Conroy "kicked off" when he was arrested over a misunderstanding regarding his bail curfew.
Procurator Fiscal Depute Lynne Mannion said: "Officers had been called to the train station just after midnight on March 19.
"There was a male involved in an incident there. When they arrived they saw the accused and spoke with him to find out his name.
"He was subject to bail and because of that he was cautioned and arrested. It (the curfew) was no longer live but at the time they believed it was.
"Thereafter he kicked off and began to talk in an aggressive and threatening manner, saying 'I'm going to give you 15 stitches and cut you' and 'I'm going to bite your noses off'. He was taken to police headquarters."
The court heard Conroy apologised for his behaviour, stating that he had not meant it.
However, he then went on to say "I'm going to rape your family", "I'm going to cut you with a knife" and "you're getting headbutted".
He was taken to a cell but officers had to wait until he calmed down before they could charge him, the court heard.
Conroy, of Hilltown Terrace, pled guilty to a charge of behaving in a threatening and abusive manner.
Sentencing him Sheriff Reekie said: "The police have a hard enough job dealing with people who are behaving inappropriately without being subjected to these extremely vile, serious threats.
"I couldn't help noticing that you found one of them quite amusing. It is not amusing.
"I have no appropriate alternative other than a custodial sentence."