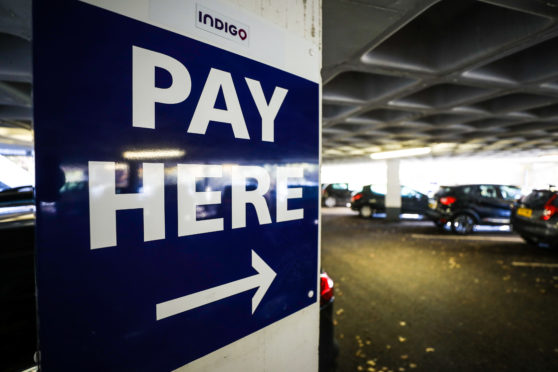 A Conservative MSP has urged staff at Ninewells Hospital to throw their weight behind a campaign to scrap hospital parking charges.
North East region MSP Bill Bowman has urged staff and visitors to the hospital to sign the petition launched by the Scottish Conservatives last month.
The party says there is widespread discontent about parking charges at three Scottish hospitals: Ninewells, the Royal Infirmary of Edinburgh and Glasgow's Royal Infirmary.
Parking charges at all other hospitals north of the border were scrapped in 2008.
The problems at Ninewells stem from a private finance initiative that forces visitors to spend £2.40 to park at the site.
The Scottish Government says the arrangement, signed under a previous Labour administration, would be too costly to get out of ahead of its completion date.
Mr Bowman, who has repeatedly lobbied two SNP health secretaries to review hospital parking at Ninewells, said it was time to end parking levies on staff and visitors.
He pointed to the case of Marion Tapp, 70, who was hit with a parking fine while she was having an emergency heart procedure after falling ill while visiting her sick husband.
The Dundee pensioner told her story to The Courier earlier this month after she tried to explain her circumstances to a parking attendant and was told "everybody who comes here is sick".
Mr Bowman said: "Despite Nicola Sturgeon's promise to end hospital charging, people visiting Tayside's biggest hospital still have to fork out.
"The human cost of this unfair system was displayed recently when Marion Tapp fell ill when visiting her husband.
"She was told her illness was no excuse for failing to put extra time on her car."
He added: "The SNP have refused to act on the situation at Ninewells in isolation, but my hope is that a national conversation will cause them to rethink that."
NHS Tayside bosses agreed a contentious PFI deal to outsource management of the car park in 1998.
Scottish Government health secretary Jeane Freeman said earlier this year that it would be up the board's managers to decide whether they believed buying out the remainder of the contract would be the best use of their budget.
Former Scottish Government adviser Richard Marsh claimed ending the arrangement with Saba Park Services, which took over Indigo's UK assets in December, could cost as little as £800,000.
NHS Tayside later said it has no intention of buying out the contract, which will not expire until 2028.
The petition can be signed at https://t.co/C2KypCmjSa