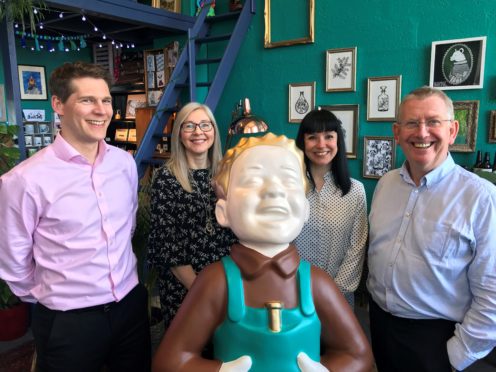 An artist is brewing up a caffeinated-themed Oor Wullie to help raise funds for a Tayside children's hospital.
Suzanne Scott, who is also known as WhimSicAL LusH, was inspired to design her statue for the Oor Wullie's BIG Bucket Trail by Aimers Coffee & Tea factory.
The firm based on Milnbank Road, Dundee, near Suzanne's Meadow Mill studio, has now decided to sponsor her creation.
The bucket trail will generate money to help The ARCHIE Foundation which provides money to support Tayside Children's Hospital, based at Ninewells Hospital, in Dundee.
Suzanne said: "When I come in to my studio, I'm often met with this amazing smell of coffee in the air.
"For a long time, I wasn't quite sure where it was coming from then I realised there's a factory up the road that's a coffee and tea merchants.
"Aimers Coffee and Tea Ltd are a hidden gem of Dundee. I got a tour around their factory. It was brilliant.
"They are so excited about supporting The ARCHIE Foundation and everything to do with the trail.
"It's been a pleasure to create so far, and they like what they've seen so far too."
The artist's Oor Wullie has been given the name Full O Beans and it has a coffee inspired colour scheme.
The statues will appear on the streets of Dundee, Aberdeen, Inverness, Glasgow and Edinburgh in June.
They will remain there for 11 weeks before farewell events are held in each city.
The statues will then by auctioned off to rise money for The ARCHIE Foundation, Edinburgh Children's Hospital Charity and Glasgow Children's Hospital Charity.
Eric Duncan, managing director at Aimers Coffee & Tea, said: "As an established company in Dundee, we wanted to be part of this and support the wonderful charity that is The ARCHIE Foundation.
"I think the statue is wonderful. I can't wait to see the final outcome – it's going to be amazing. I think people will be taken aback when they see this."
Sponsors are still being sought across Dundee, Tayside and Fife. Anyone interested in sponsoring one of the statues should email sarah@archie.org for more information.