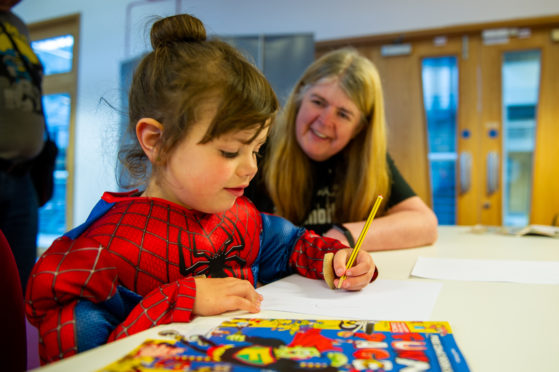 Students at Dundee University who champion female comic makers are to hold their first gathering in the city.
The Laydeez Do Comics (LDC) group was set up by postgraduate students, Hailey Austin, Rachel Davis and Grace Wright.
They are to hold the group's first event at Dundee Comics Creative Space based on university lecturer Dr Golnar Nabizadeh's book Representation and Memory in Graphic Novels.
LDC supports female-identifying comic creators, fans and scholars through festivals, events, awards and other initiatives.
Though it is a women-led forum the group is open to everyone, regardless of gender.
The Dundee chapter of the group was set up after co-founder Nicola Streeten, a successful comic creator and academic, attended an event at the university last year and encouraged students to form a branch.
Hailey said: "We are really excited to be hosting these events and bringing people together locally to celebrate the contribution that women have made to the comics industry.
---
>> Keep up to date with the latest news with The Courier newsletter
---
"We are finding out more and more about the role that women have played in the evolution of comics right from the outset but also how they have tended to be airbrushed from the history.
"Comics are seen as something for boys but the majority of students studying comics here are women.
"That doesn't fit with a certain narrative though so it's sometimes forgotten."
Former graduates of the Dundee comic programme include Claire Roe, who drew Batgirl and Wonder Woman, and Anna Morozova, who was recently singled out as a rising star.
Rachel said: "Women have always been involved in the creative side and are increasingly getting involved in research, archives and the business side as well.
"They edit and co-create but people don't know about this so that is why it's so important to have a women-led organisation celebrating this contribution.
"Women love comics and make up a big percentage of readership but we are probably less likely to go into comic book stores because it can be an uncomfortable experience."
The first Dundee LDC event is on FMay 31, at the Dundee Comics Creative Space, Vision Building.