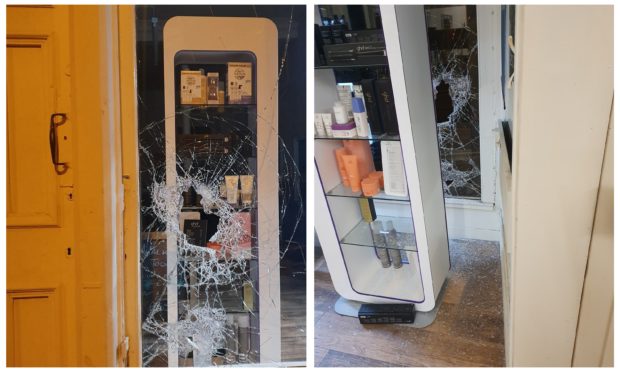 A thief who made off with hundreds of pounds worth of equipment from a Dundee hairdressers endured a barrage of abuse from local residents as he smashed a window.
Several people living on Dudhope Street, whose bedroom windows overlook Gary Wightman Hairdressing Salon on Constitution Street, were awoken at around midnight on Tuesday by a repeated loud banging.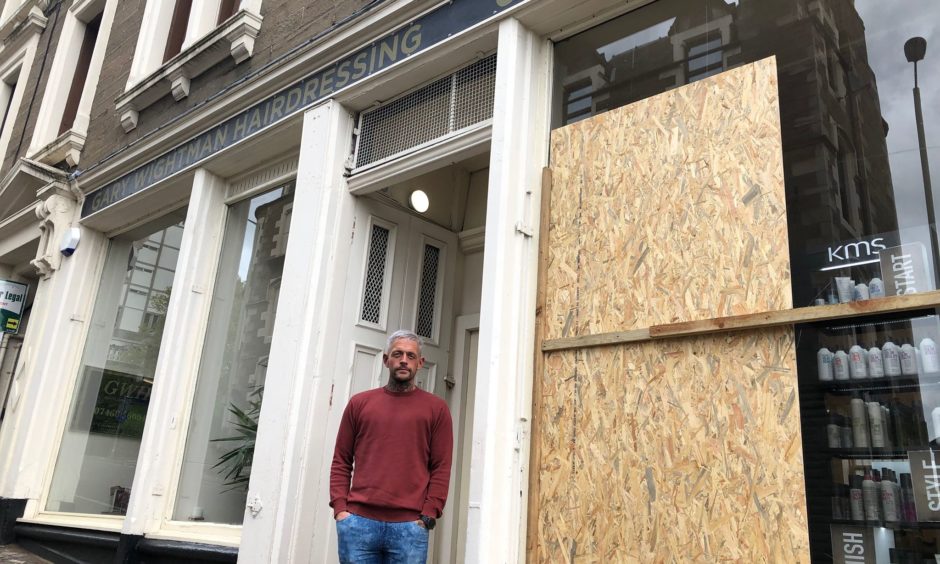 They then looked out their windows to see a man in a dark hooded top trying to break the window of the salon with a hammer.
Billie Reeves, one of the residents and a regular customer began shouting at the man in an attempt to scare him.
That was not enough to deter the brazen culprit, who continued taking things through the window.
Ms Reeves said: "The smash in the window was only big enough so he could reach his arm in, but I saw him grabbing stuff and putting them in his rucksack.
"I shouted at him to stop, but it seemed like he was making a point to ignore us and not look up."
Man uses hammer to steal hair straighteners from Dundee hairdressers before being chased away
Ms Reeves' boyfriend, Adam McClymont fetched a sweet potato to throw at the thief, thinking it would resemble a rock in the dark and scare him off.
By the time he returned to the window his target had run off, turning into nearby Salem Street. Ms Reeves said he stumbled as he turned the corner and stolen goods fell out of his bag.
Several police vehicles arrived shortly afterwards.
Mr McClymont said: "They seemed to take it very seriously, which was good.
"It's a busy street, but we don't normally get things like that happen. It's quite shocking. I feel sorry for Gary."
Mr Wightman, who lives a 10-minute walk away from the salon, was in bed when some of the residents began calling him.
"I wouldn't normally answer my phone at night, so I don't know what made me do it then," he said.
"When I got there the police were already there with sniffer dogs. I stayed for a couple of hours until a joiner came to patch up the window.
"It's really frustrating that someone would do this but I'm glad that my nearby customers would look out for my business like that."
Mr Wightman, who has been at the salon for about 18 months, estimates he's lost several hundreds of pounds because of the incident.
All the morning's appointments were cancelled so the shards of glass could be cleared up — a loss of about £300. The cost of the stolen goods, two sets of GHD hair straighteners, is around another £500.
Gary is currently in the process of getting quotes to replace the window so he can claim that on his insurance policy.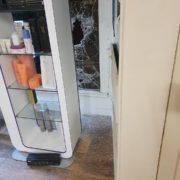 A police spokesman said: "Officers would like to trace a man described as in his 20s, medium to large build, who was wearing a dark hooded top, light grey bottoms, and was carrying a dark rucksack or tool bag.
"If you have any information that could assist our investigation, please call 101 or speak with any police office. Our reference is CR/13599/19."