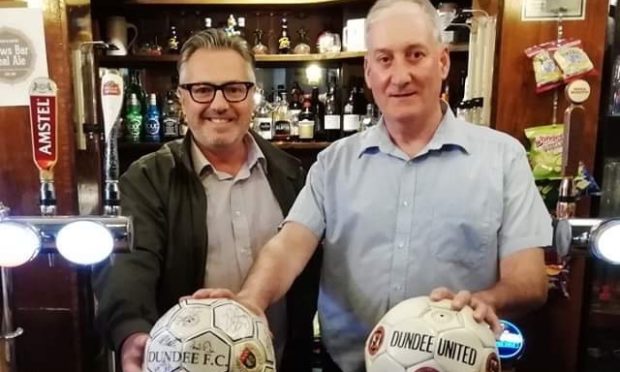 Local businesses fear Dundee's footballing failures could result in their profits taking a hit next season.
Dundee FC were relegated from the top flight after a miserable season while Dundee United lost out on promotion via the playoffs for the third year in a row.
It means the city will not have a team in the Scottish Premiership for the first time in 24 years.
It also means clubs such as Glasgow heavyweights Celtic and Rangers, as well as Aberdeen, Hearts, and Hibs, will not make a league visit to the city.
The biggest clubs can bring up to 4000 fans along on game day, boosting the coffers of nearby pubs, takeaways, and shops.
Jim Kidd, who runs Strathmartine Road's Frews Bar said he fears the pub will see a big reduction in footfall overall in the season.
He said: "I feel there will be a definite financial impact with the clubs playing in the lower league next season.
"However, Dundee and Dundee United should be like the Celtic and Rangers of the Scottish Championship, where both will be fighting for top spot."
Jim said his hope was for an air of positivity if both clubs find themselves winning regularly and that this might mitigate the impact.
"If Dundee or Dundee Utd were in the Premier league they would be playing to survive as opposed to playing to win the league," he said.
Janell Michie, who works most Saturdays at bakery and takeaway Rough and Fraser on Provost Road, said the business was "packed out" on game days, especially when the bigger clubs visit.
She said: "When the likes of Celtic and Rangers come to visit it's even busier in here.
"All the businesses nearby get so many more people in.
"We have lots of regulars from Dundee as well as people from nearby towns like Arbroath and Forfar who come in for every home Dundee FC game so we'll be OK.
"We actually don't get too many Dundee United fans. We've been told it's because the shop is blue but I've no idea if that's true.
"We'll still get lots coming in but there will be a big drop some weekends there's no doubt.
"I think it'll be bad for the city as a whole, not just around here."
George McIrvine, a Labour councillor for the Coldside ward, which includes both Tannadice and Dens Park, said he expected a"feel good factor"' in the city if both teams are fighting for top spot and promotion.
He said: "If both clubs are competing at the top of the Championship next season as expected, this in itself will generate a feel good factor in the city and create the interest and buzz where local pubs and other businesses in Coldside will benefit.
"In addition, regular TV coverage of both Dundee and Dundee Utd on Friday evening away games will create a more positive footballing mood with supporters and fans alike that has been missing the last few years since the season Dundee United were relegated."
Peterhead boss Jim McInally, who played for both clubs and won the Scottish Cup with United, has said the situation is "not healthy for the city".
However, the Federation of Small Businesses (FSB) say it should thrive regardless.
David Groundwater, FSB's development manager for the North East of Scotland, said: "The contribution that football makes to local economies goes way beyond the price of tickets. Fans of both home and away teams also contribute towards many local businesses, especially in the food and drink sector.
"There is no doubting that when morale's high, people spend. But the wider economic success of the city does not hinge on the fortunes of two football teams.
"Businesses across Dundee, and indeed throughout Scotland, are resilient. They can generally take change in their strides, adapting their business models to overcome challenges from left field, and they will strive to do so here."