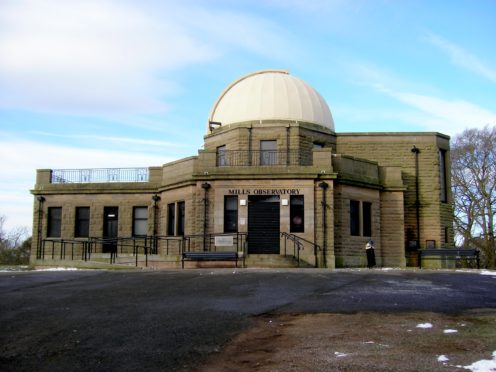 Repairs to Mills Observatory in Dundee will soon begin after it was left out of action for almost a year and a half.
The Balgay Hill facility, which is Britain's first purpose built observatory, is expected to reopen in mid-October.
It has been without its star feature since the shutter mechanism on the paper mache dome failed in January 2018.
This meant the two large telescopes inside have been out of commission, leaving the public only a series of small telescopes to use.
The 10-week repair project is expected to begin in August.
Councillor for the West End, Fraser Macpherson, who has repeatedly called for the facility to be fixed, spoke of his relief at the news.
He said: "I was anxious that efforts would be made to get repairs undertaken and I am pleased that progress is now being made.
"It has been a significant challenge given the cost and complexity to get this far and I am grateful to council officers and Leisure and Culture Dundee staff for their efforts to get this fully resolved.
"Leisure and Culture Dundee, who operate the observatory on behalf of the city council, has been ensuring that as full a programme as possible is run at the observatory whilst the full repairs could be finalised, which has been reassuring.
"I am relieved that an end, however, is now in sight."
The observatory's seven-metre dome is constructed out of paper mache and is supported by steel, meaning a specialist is required to carry out the work.
It was revealed late last year that in excess of £100,000 would be needed to fix it.
Leisure and Culture Dundee has been running a reduced programme over the autumn and winter months, when the facility, which opened in 1935, would ordinarily be at its most popular.
The main telescope – a 16-inch Dobsonian reflector — was installed six years ago.
The facility is named after linen and twine manufacturer John Mills, who gifted money in his will for the observatory to be built.