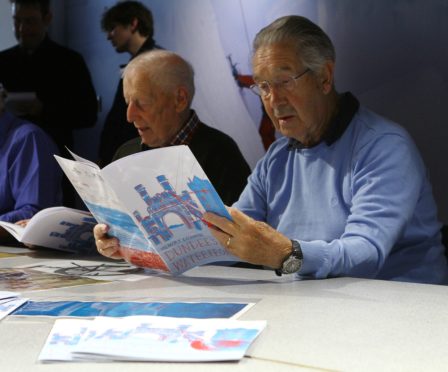 Memories of the changing face of Dundee waterfront have been drawn together in a project to preserve the past.
The Memory Exchange Dundee's Waterfront scheme brought together people aged 60 and over who were born in the city.
They were asked to share their tales of growing up near the city's docks and of the experiences they had in the area.
It was led by Dundee Heritage Trust and the memories have been put together into a booklet, alongside photos and illustrations.
It shows how much the area has changed over the years, with many original features no longer in existence.
Gill Poulter, heritage and exhibition director with the Dundee Heritage Trust, said: "We brought together a group of Dundonians and took them back to their childhood.
"We asked them to tell us about the docks and the ship that used to come in and to tell us how the area has changed over the years.
"They spoke about playing by the river and of the building of the Tay Bridge. It has been a really enjoyable project."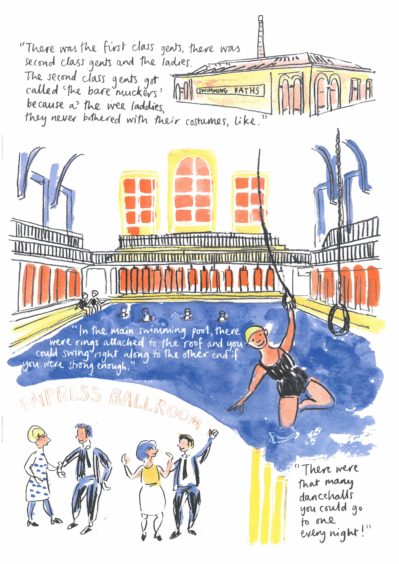 The group first met last Autumn at Discovery Point and used archives pieces to jolt memories.
They have met regularly since and the group launched the completed booklet on Thursday.
The scheme was given £4,000 in funding by the Aberbrothock Skea Trust and the Museums Galleries Scotland.
Laura Darling,  artist in residence at Hospitalfield House in Arbroath, created the illustrations for the project.
---
Then and now: Drag the slider below to compare:
---
Quotes from those who took part in the scheme are included in the booklet, along with questions designed to stimulate debate.
Former waterfront resident Jim Houston, 95,  said: "It has been interesting.
"When I first got married I lived on Dixon Dock Street and right outside of it was the water. This project has been really enjoyable."
Ewan Thomson, 76, lived on West Dock Street, which does not exist anymore.
He said: "It has been excellent to take part. It has brought back lots of memories.
"I saw the docks every day and they were reclaimed for land in the 1960s. The waterfront has changed massively."
Memory Exchange Dundee's Waterfront is to be given free to all Dundee schools, libraries and care homes.
A free download is also to be made available from rrsdiscovery.com