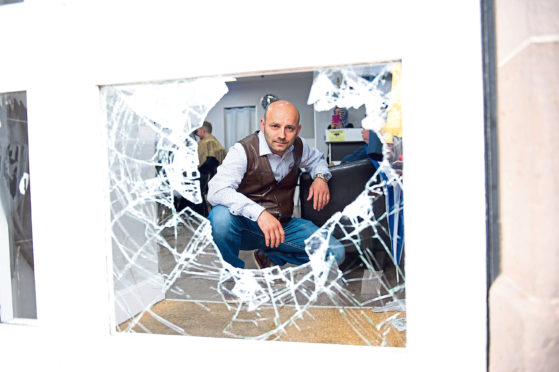 A Broughty Ferry barber has been robbed just two weeks after a similar incident at another Dundee salon.
Thieves used a hammer to smash their way into the Turkish Barbers in the early hours of Thursday morning, the same way another shop was broken into a fortnight ago.
But police have said they do not believe the incidents are connected.
On Thursday the hooded thief was caught on CCTV smashing his way into the Gray Street shop, before he entered through a hole in the door at 2.38am.
A neighbouring businesswoman alerted the salon owner Sinan Durmus, 44, at 7am  when she found broken glass.
Mr Durmus said: "I'm shocked, I've been here since 2012 and it has never happened before.
"You can see him hitting the door with a hammer and then he puts his foot through before following with his shoulder. He left blood on the glass.
"He headed straight for till, which had about £200 in it, and smashed it on the floor before he then grabbed a safety cash box which was empty.
"When I was driving to the salon I was thinking about the damage to the shop. If he had smashed the mirrors that would have been very expensive.
"The glass from the door had spread right across the floor. I thought that I would have to close the shop but my staff came in and we carried on."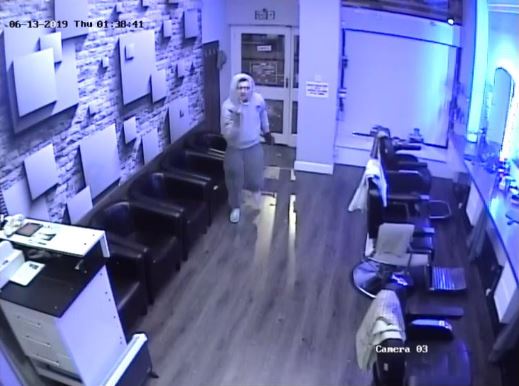 Residents living near to the Gary Wightman Hairdressing Salon were awoken at around midnight on May 28 by repeated loud banging.
They saw a man in a dark hooded top trying to break the window of the salon with a hammer and shouted at him to try to scare him off.
The crook ignored them and stole two sets of GHD straighteners worth around £500 while some appointments that day had to be cancelled, causing a further £300 loss.
Following yesterday's robbery in Broughty Ferry a Tayside Police spokesman said they the crimes are not being linked.