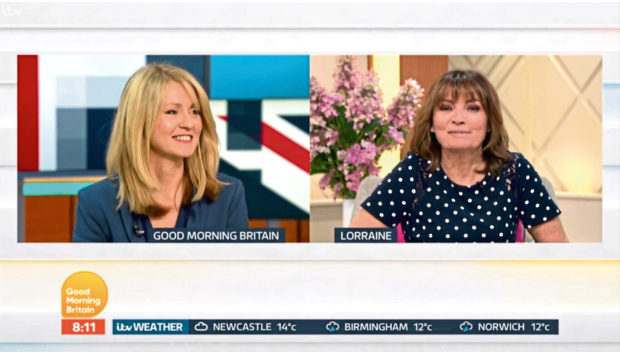 Lorraine Kelly has, as fas as I know, never found herself on an alien planet filled with biomechanical killing machines intent on using her body as a host for a parasite that will eventually explode from her gut in a shower of viscera.
Yet the chatshow host channelled her inner Ellen Ripley – Sigourney Weaver's character from the Alien franchise – this week after finding herself becoming, bizarrely, the 11th major player in the Conservative leadership contest.
In Aliens, Ripley watches as a squad of Marines is torn apart after blundering into a nest of angry xenomorphs.
As the only one who's survived an encounter with the pesky critters before, the soldiers turn to her for guidance and advice.
"I say we take off and nuke the entire site from orbit. It's the only way to be sure," she replies, sentiments that many of us now share watching the clamjamfry of contenders for 10 Downing Street spin their delicate webs of absolute nonsense in their unseemly scramble for power.
Like Ripley, Ms Kelly had clearly had enough.
When asked if she liked the now-defeated leadership challenger Esther McVey from their time together on breakfast TV, she could barely disguise her contempt, saying she couldn't remember McVey before trying to change the subject.
McVey later claimed the antagonism stems from the fact she won a promotion to share a couch with Eammon Holmes that Ms Kelly did not.
Unfortunately, McVey is simply a politician whose ambition was always destined to hit the hard wall of reality.
Lorraine Kelly, on the other hand, is a nationally beloved TV star who has an ice-cold fury in her veins for the puffed-up pretensions of the political class.
Dismissively, she pointed out she had her own show by that point.
When quizzed further on the encounter, she explained how she was "sick to the back teeth of the whole toxic political atmosphere" currently enveloping the UK and disagreed with McVey on LGBT rights.
Needless to say, McVey was thoroughly trounced in the first round of voting two days later.
Of course, McVey was not even the worst candidate in the running.
That honour goes to Boris Johnson who this week broke his silence by boldly proclaiming he could "steer the country between the Scylla and Charybdis of Corbyn and Farage and on to calmer waters."
Johnson, lest we forget, could not navigate his way down a death slide so it's hard to picture him successfully negotiating a path between anything, mythological or not.
And while I, Morkius, love a high-falutin' classical reference as much as the next person, preposterous buffoonery is not a qualification for Prime Minister.
As someone who told blatant mistruths during the EU referendum, who was derided as pathetically out of his depth as foreign secretary, it is ridiculous Johnson is in contention.
The same goes for Dominic Raab, a man who negotiated a Brexit deal so bad he is demanding it must be redone and saying he's just the man to do it.
It's no wonder many of us feel nuking the entire site from orbit might be the best option left.
Once upon a time, it used to be possible to believe that the gravity of a job like prime minster or president was enough to keep people operating within the lines, so to speak.
Now the success of Donald Trump and, in all likelihood, Boris Johnson suggests all bets are off. We live in a time where those pursuing power for vanity's sake are handed the keys to highest offices.
Of course, Aliens was an allegory for the Vietnam War, the conflict where the phrase "to save this village we had to destroy it" was spawned.
Sadly, if there's a better description of the intentions and inevitable consequences of Brexit on our little island, I've yet to hear it.
Fifteen minutes
Andy Warhol once said everyone would be famous for 15 minutes but there's no way he could have known just how prescient he was being.
Take Brechin's Zoe Archibald, for example.
You may not know her name but she will – for the next quarter of an hour or so – be known around the world as: "The woman who got herself stuck in a child's car with hilarious consequences".
A video of Zoe being rescued from the Little Tykes car went viral after it was posted online. She was only freed from the kiddie-sized car after her dad cut through the plastic with a bread knife.
I had to put one of these fiendish contraptions – designed, apparently, by Satan himself – together last year and am confident that Zoe is lucky to have the father she does.
After the blood, sweat and tears it took to build my daughter's car, any adult getting stuck in it would be told by me they were staying there until they found their own way out.