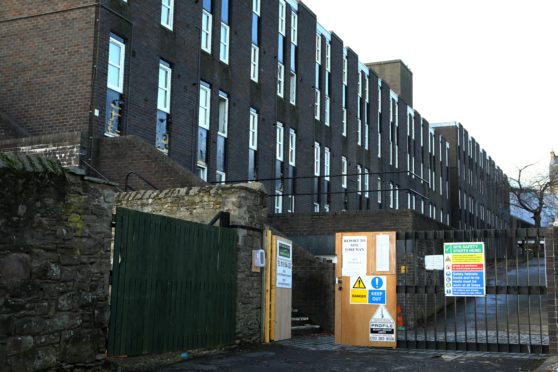 A controversial development that will see scores of students housed in a residential West End area will not need planning permission.
Plans to develop Peterson Hall at Roseangle, to house nearly 200 students, despite existing fears of overcrowding in the area, emerged last year.
Council chiefs launched a legal probe into the work, which has now concluded.
It clears the way for the McClaren Group, which bought the property in July last year, to start housing students in the building when the development is complete. It is understood the company hopes this will be done by September, in time for the next academic year.
Peterson Hall used to house 82 students, but it is currently being transformed so that 191 students can move in. The land has just 20 dedicated parking spaces.
The work began without planning permission in place, sparking concern from local residents and council officials.
But as the work to double the occupancy is being carried out internally, a similar planning permission that was granted in the past still applies.
However, McClaren will need to secure a new HMO licence in order to achieve maximum occupancy.
West End councillor Fraser Macpherson is worried about the impact the influx of extra students will have on the area.
He said: "The issue that remains is that any of the flats with three or more adults living in one flat, which I understand will be about 30, will need a new HMO.
"My main concern is that there are constituents who are worried about the impact this increase of extra people will have on amenities in their area, such as parking, which is already a major issue.
"There will be a significant increase in the number of people living in the area if this goes ahead.
"The current HMO limit means about one in eight properties are granted a HMO licence, or 12.5% of an area.
"There are already a few HMO properties around that area but the borders for these are quite strange sometimes.
"I have previously said that I think we should reduce the number of HMOs granted in the city, which wouldn't necessarily lower the number of HMO properties, but it would spread them out better.
"The licensing committee will have to take into account the suitability of the property and ensure all safety measures are taken before granting a HMO.
"I do take into account that the legality of the development is not in question, but I am concerned about the impact such a hike in people will have on people already living there."
A Dundee City Council spokesman said: "This matter has been fully investigated and no action will be taken at the current time."
McLaren Group did not respond to multiple approaches for comment.