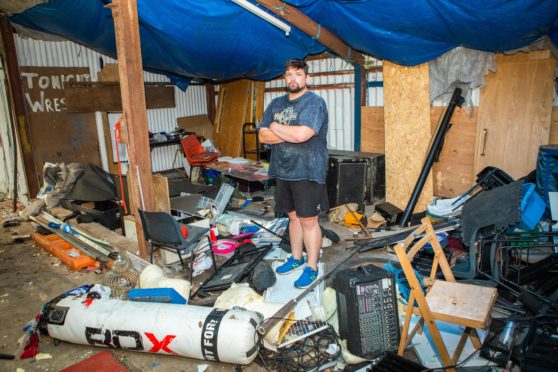 Locals are flocking to help a stricken wrestling group after vandals who caused £6,000 worth of damage to its training facility came forward and confessed.
Scottish Wrestling Entertainment (SWE)'s Blairgowrie centre was ransacked last week leaving medals and trophies, as well as much of the wrestling and gym equipment, damaged beyond repair.
Within days of the news spreading, Taysiders started donating cash and organising fundraising activities to get the centre back up and running and a group of youths who were involved in causing the damage admitted their part in it.
David Low, who runs the social enterprise, said: "I've been taken aback by the response.
"I honestly can't believe the support.
"We'll need all the help we can get because it's looking in the region of £6,000.
"They have properly smashed it up. It costs £125 each for the mats, which have all been wrecked.
"The crash mat costs around £400 and it has glass inside it from the light tubes as does the wrestling ring canvas.
"On top of all that the lockers and toilets have been smashed up. New aluminium as well as new wood for the flooring has also been wrecked."
David said around six or seven youngsters aged around 17 had held their hands up and admitted to being involved.
He said: "It's positive that these teenagers have confessed and we can identify the others and move forward.
"With the help of generous donations we will hopefully be able to get these teenagers to rebuild.
"They're keen to get involved and clean it all up.
"I don't really want these young guys to have a criminal record that could hang over them for life. I don't think that would be fair. A lot of us have made mistakes when we're young so if they learn from it and help make it right, I would much prefer that."
He added: "I want to get a community safety officer in to explain to them how lucky they are that they haven't been charged.
"I'm also speaking to a local fireman to explain to them how dangerous all this was too. I'm glad none were hurt but it could have been so much worse."
The Hartland Wrestling Club, on the town's Welton Road, trains youngsters as young as eight as well as adults in wrestling and offers weight-lifting space.
It also puts on hugely popular annual events at Dundee's Caird Hall which have attracted global wrestling icons such as Million Dollar Man Ted DiBiase, Rowdy Roddy Piper, Tatanka, and Hacksaw Jim Duggan.
Among those offering to help out is one half of duo the Singing Cabbies, Wayne O'Hare, as well as a cancer survivor who has offered to do a sponsored hair shave.
SWE will again host one the biggest events on the wrestling calendar, Hell for Lycra, on August 31.
This year's session will see World of Sport (WOS) wrestlers Martin Kirby and Rampage Brown feature in a Caird Hall showpiece.