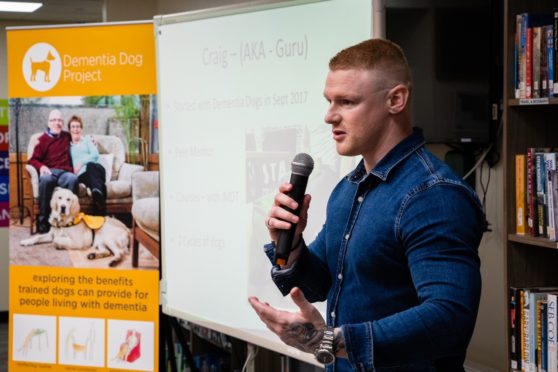 A team of Dundee fitness fanatics will lift the equivalent weight of more than 1000 double-decker buses during an epic 24-hour charity fundraiser.
The challenge will see the group of 10 push and pull a total of 10 million kilograms on August 24 and 25 at Pure Gym Dundee in aid of Alzheimer's Scotland's Dementia Dog Project.
The effort is being organised by former personal trainer Craig Guest, who has previously volunteered with the charity.
The team of two women and eight men, range in age from mid-twenties to late-thirties and hope to raise as much as £10,000. Not all are regular weightlifters.
Invergowrie resident Craig, 35, who now runs his own dog-training business, said the 10,000 tonne effort will be a challenge the group will overcome.
He said: "We've all been up at about 5am training at the back of the Ice Arena doing stuff like pulling cars.
"It's a pretty mixed group. One of the girls involved isn't a weightlifter, she's more of a marathon-runner so she's doing this kind of stuff for the first time.
"We'll all need a lot of training but we have about six weeks to go.
"I'm excited but I am a bit nervous. It's for such a great cause and it's a chance for me to give something back to the charity who also gave me the chance to learn dog training."
Craig has been involved in similar fundraising events in the past having been part of a team of 10 who completed almost 20,000 consecutive press-ups for Cash for Kids around five years ago.
This effort will see them pound all the major muscle groups using a variety of compound exercises such as squats and bench press.
He said: "We can't just continually lift so there will be breaks but everyone will have to come up with their best approach.
"Some say they plan to lift as much as possible at the start and slow down but others will spread out the weight over the entire day.
"Our target is £1000 each which we think is achievable."
The Dementia Dog Project explores how trained dogs can help people to live well with dementia using specially trained assistance dogs which live with families at home.
As well as Craig, the team is made up of Mandy Wallbanks; Alex McDade; Roy Hillis; Chris McDonald, Daryn Wester; Terry Flynn Jr; Steve Swinley; Andy Reilly; Meggan Foulis; and Stuart Mclaren.
To donate to the cause, visit www.justgiving.com/fundraising/dementiadogfundraiser