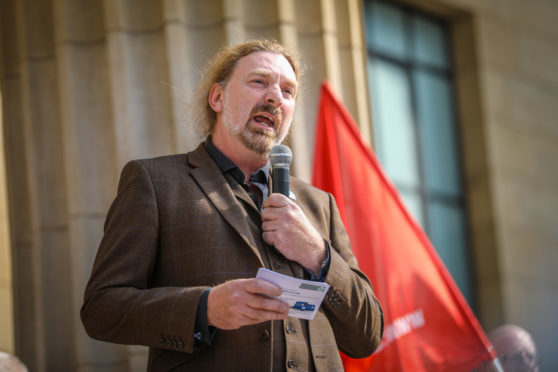 A woman left shortchanged by a building firm that folded after she was awarded £20,000 for a botched conservatory job has been assured the UK Government intends to introduce new legal protections.
Company director Paul Anderson was ordered to pay the sum to Caron Scrimgeour for breach of contract, loss and damage while carrying out work on her Dundee home.
An expert described the work as "the poorest I've seen in 30 years".
The Courier reported on Tuesday how Mr Anderson was able to avoid paying the successful claim after folding his business Ancrum Windows Ltd before setting up two new firms based at the same Albert Street location.
In a further sting, pet lover Ms Scrimgeour claims a change of the original company's name to Katlady Services just days earlier was intended as a personal taunt. Mr Anderson has denied this, insisting the name is "just a family thing".
Limited liability companies, such as Katlady Services, are legally separate from their directors and shareholders so bosses are not typically personally liable for paying the debts.
Ms Scrimgeour said her decree "might as well be listed toilet paper" when the registration of Katlady Services closes but hopes to raise awareness of the dangers for consumers in using limited liability firms.
There is currently no automatic prohibition to prevent directors of a failed company starting up a new business in the same field but they are not allowed to use the same or a similar name unless an exemption applies.
This has led to growing concerns over "phoenixing", the practice of carrying on the same failed business successively through a series of companies.
Dundee West MP Chris Law, who wrote to the UK Government on Ms Scrimgeour's behalf, said current legislation "does not appear to allow for investigation of companies that cease trading without entering insolvency, or hold to account those involved in phoenixing jointly through tax liabilities arising from their direct actions".
Business minister Kelly Tolhurst has given an assurance the UK Government intends to "extend the scope of the the current investigation and enforcement regime to include former directors of dissolved companies."
She said: "This may be achieved by introducing a new power to allow for investigation into the conduct of individuals who were directors of companies which have been dissolved, and to take action against former directors who are found to have acted in breach of their legal obligations.
"The Government will look to implement the measure when parliamentary time allows."
The Insolvency Service is responsible for investigating the conduct of directors following the closure of a company to ensure individuals do not abuse the privileges of limited liability status.
Mr Law said: "Kelly Tolhurst MP has outlined her position that the UK Government is taking the matter seriously, however it is clear the current system still lacks adequate policing and accountability. I therefore intend to continue to hold the Government to account on this issue at every opportunity."
Katlady Services boss denies renaming Dundee firm to taunt pet lover who sued him for £20,000