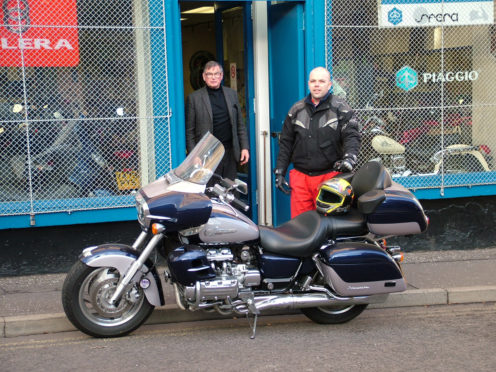 Andrew Hart, who ran a popular motorbike shop in Dundee for more than 50 years, has died.
The Tayport man passed away suddenly at home on July 26 at the age of 85.
Mr Hart was well known in the community, having built up a loyal customer base.
Born on November 19, 1933 in Dundee, Mr Hart lost both of his parents at a young age — his father died at Scapa Flow during the Second World War.
Andrew lived for a spell in Bristol, before returning north to Tayport, where he met his wife Moira.
The pair married in the late 50s and went on to have two children, Bruce and Elinor.
Moira passed in 2005.
Mr Hart worked as an office boy and a butcher before taking night classes to become a mechanic.
He then opened the Andrew Hart Motorcycles shop on Milnbank Road, Dundee, in October 1962.
He worked in the shop every day until his death, and would often say "I don't run the shop, the shop runs me".
Despite working latterly in the sales office as he got older, his favourite place to be was still among the bikes, working as a mechanic.
A funeral will be held at Tayport Parish Church on August 7.
Mr Hart is survived by his children Bruce and Elinor and four grandchildren, Arwen, Adam, Callum and Rebecca.