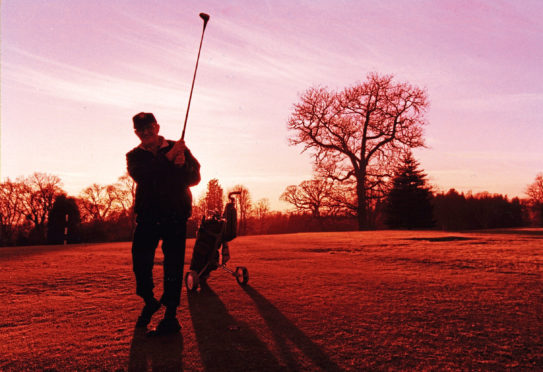 Camperdown was my playground as a youngster.
A brisk ten-minute walk from my front door, it offered a world of adventure.
The wildlife centre was a constant.
For a wide-eyed wee laddie, the deer and the peacocks and the creepy crawly house were fine, but I was really only interested in the big cats and the famous – and later infamous – Jeremy the bear and her sidekick Comet.
Then there was the original pirate playground – where walking the plank genuinely came with the possibility of death – and the monkey puzzle tree with its soft bark in front of the glorious mansion house that you could punch without hurting your hand.
Again, I was a wee boy.
But my real love was Camperdown Golf Club.
I had a junior ticket and spent as much time at Campy as I could with my half set of golf clubs and red Ping pencil bag which was so battered I had to place a cardboard insert in the bottom to stop my clubs from falling through.
It was brilliant.
My good pal Gareth – whose dad Keith was Camperdown club captain for a period – was naturally talented at golf, while I was an enthusiastic hacker.
I was roundly drubbed almost every time we played but it meant my one and only monthly junior medal win was all the more special.
I still have it in its presentation box in the house somewhere.
It was a great time and, as a direct result of my waywardness as a golfer, I can truly say I have explored every nook and cranny of that golf course.
It is long and with its tree-lined fairways and undulating topography, it is a real test of parkland golf.
But now that brilliant childhood refuge – a place that fostered my lifelong love of golf and which delivered wonderfully random moments such as the exploding burger van at the back of the 11th tee (does anybody know of Bob Servant's whereabouts that night?) – is set to close after a Dundee Council meeting on Monday night.
As a municipal facility the core issue is, of course, money.
Given the myriad pressures on council services, I understand that completely.
But the closure of Camperdown Golf Course will still be a retrograde step for this city and one that I fear we may live to regret.
Camperdown is by far the superior municipal course in Dundee.
But the golfing eggs are in the Caird Park basket because of the location of the new Regional Performance Centre for Sport and a vision to build a real leisure hub in that area. Again, I get that.
Expensive, time-consuming, 18-hole golf is on the wane in Scotland.
Camperdown, and many other courses, is a victim of that and is certainly under-used and under-loved these days.
But good marketing, external investment or alternate ownership options and innovative schemes such as cut-price nine-hole or six golf – or even footgolf could help revive its fortunes.
They would certainly have been avenues worth exploring before the axe fell.
Get in touch with your local office at Dundee or send a letter to The Courier at letter@thecourier.co.uk
BREAKING: Camperdown Golf Course to close next year after narrow vote by city councillors