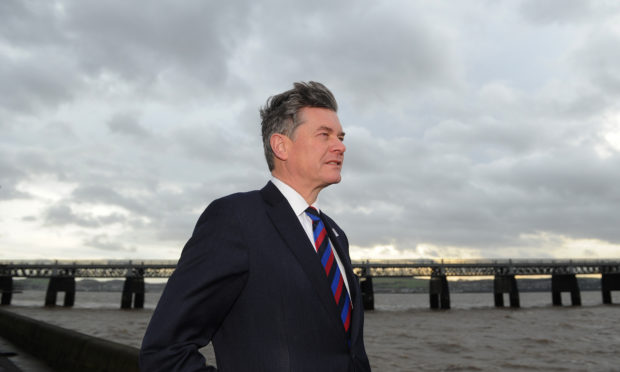 The chairman of Dundee High School has said it may appeal an employment tribunal ruling that ordered it to pay £60,000 to a former teacher who claimed he was bullied out of his job.
A letter sent to parents said the school's board "disagreed with many factual aspects of the tribunal report".
It found former principal teacher Daniel Goodey had been been bullied out of his job after he refused to apologised for sighing at a pupil who stormed out of his class in a "teenage huff".
Judge Ian McFatridge said evidence presented to the tribunal by rector John Halliday and by deputy Lise Hudson, who will succeed Mr Halliday in January, was unreliable.
Dundee High School rector bullied dedicated teacher and forced him to quit, judge rules
The case has prompted a flurry of complaints from parents about management at the school, which charges fees of up to £13,650 a year.
In his letter, school chairman Ian Bett states: "The board is currently considering whether to appeal the decision, and we expect that decision to be made shortly.
"While we disagree with many factual aspects of the tribunal report, we are not complacent. We are committed to reviewing everything we have done to date.
"It is crucial that we are open and transparent, and committed to learning any and all lessons that we can, in order to ensure the very best outcomes for our pupils, our staff and you, our parents."
Dundee High School chairman pledges 'complete confidence' in leadership following tribunal criticism
Since the tribunal's decision was published, the school has held two open meetings with staff and another two with parents. It is understood around 14 parents have attended to express their concerns or seek assurances.
Management has pledged to hold a review into the handling of the situation leading to the employment tribunal but was unable to say whether this will be dealt with internally or if an independent party will be invited to conduct it.
Mr Bett said the school also met, at its own request, its link inspector from Her Majesty's Inspectorate.
He told parents: "She assured us that HMIE had no concerns about the leadership, management or governance of the High School.
High School of Dundee rector refutes claims of bullying culture in letter to hundreds of parents
"However, the school agreed that we would work with her to ensure that our routine annual engagement visit will be brought forward and would focus on lessons learnt from the tribunal."
A spokesman for the Dundee High School said it was unable to comment on what those lessons are until after the review has taken place, but said it is committed to learning "any and all lessons we can".
Mr Bett added: "Our overriding objective is to provide the very best education possible for our pupils, through the dedicated and professional work of our teachers and support staff, but also through partnership with our parents and guardians".