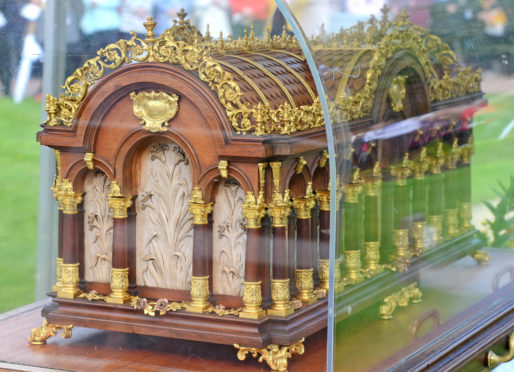 The relics of one of the most important people in Catholic faith will arrive on Tayside on Wednesday.
The visit of the relics of Saint Therese of Lisieux is part of a historic three-week tour of the eight Catholic dioceses in Scotland.
During the three-day stay, the relics will predominantly be kept at St Andrew's Cathedral in Dundee, which will be open for most of the time. The cathedral will also be opened for an all night Vigil on Thursday.
Born Marie Françoise-Thérèse Martin in 1873, the saint was only 15 when she entered the Carmelite convent in Lisieux, Normandy,
She took the religious name Sister Therese of the Child Jesus and the Holy Face and has become known simply as "The Little Flower."
After a long struggle with tuberculosis, she died on September 30, 1897, at the age of 24. Her last words were said to have been: "My God, I love You."
She was later canonised a saint in 1925 by Pope Pius XI.
Many miracles of healing have been reported throughout the world, including in Scotland, through her intercession.
General Secretary of the Bishops' Conference of Scotland, Fr Jim Grant coordinated the relics' visit to Scotland.
He said: "People today are fascinated by the idea of pilgrimage, of travelling to a holy place or site associated with a holy person.
"This once in a lifetime visit of the relics of Saint Therese to Scotland is a pilgrimage in reverse, where a holy person comes to us.
"We can expect many graces from this visit including healing, conversion and discovery of true vocation to God."
Bishop of Dunkeld, Bishop Stephen Robson spoke of the importance of Saint Therese to him in his role.
He said: "All of my Catholic life as layman, priest and then bishop, Therese and her spirituality has deeply moved me.
"A few years ago when Pope St John Paul II declared Therese to be a Doctor of the Church, he prophetically declared that what she lacked in literary acumen she professed and practically demonstrated in her spiritual life."
He added: "In this, Thérèse was indeed a veritable Doctor of the Church, and her simple spiritual ways are a safe and sure guide and path to the Lord."
Her relics will also be taken to Barlinnie Prison for a special Mass on September 16 as part of the tour through the country.
The tour of the relics began in Scotland on Friday and will conclude on September 19.