A Tayside singer who gained fame after videos of his operatic street performances went viral has released his first single.
Finlay McKillop received such good feedback from his busking in Dundee city centre that he has taken his singing voice into the studio.
The 20-year-old says the four-song CD, featuring a mix of theatre and opera tracks, will also help him get by as he continues his second year studies in musical theatre at the Emil Dale Academy in London.
The former Dundee High pupil's love of singing was kick-started aged eight and he has been busking in the city since the age of 14.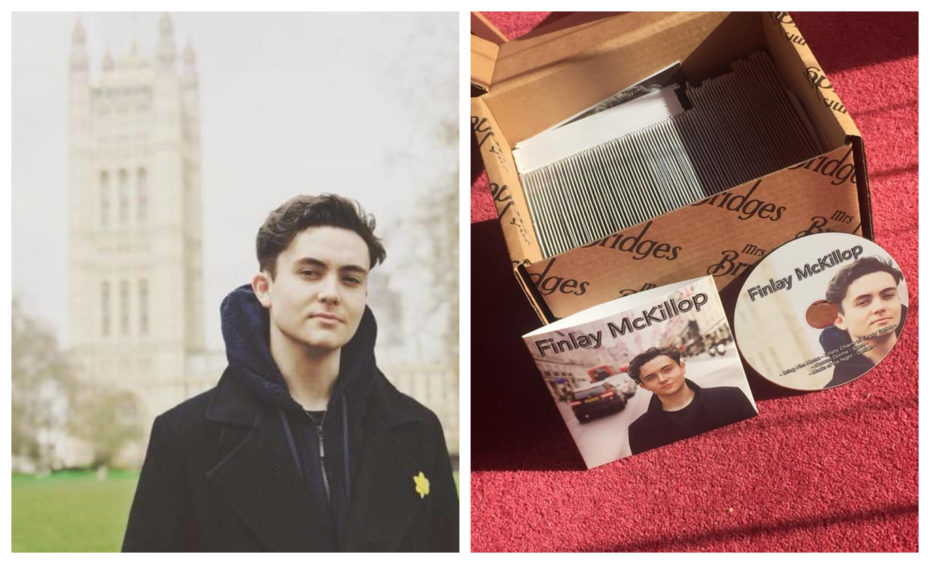 Mr McKillop said: "I decided to bring the single out, the main reason being London is so expensive and that is where I am studying.
"I started busking at about 14 or 15 did. People always asked if I had a CD and I said no. The last few months have given me the push to finally make it."
He describes his first times busking on the streets of Dundee as a youngster as "really scary", adding: "I had to have my mum standing somewhere nearby. You still sometimes get people coming up and shouting into your microphone.
"It is a terrifying experience when you actually do it. To see people are actually enjoying it, it gives a little push to work harder."
He describes his singing style as inspired by musical theatre "with a tinge of opera".
Mr McKillop, originally from Monifieth, also performs at functions and events.
He took a gap year after finishing his studies in Dundee and spent much of it making a name for himself in the local area through busking and performing in local pubs and clubs.
In April a video of him singing Let It Be by The Beatles on Dundee's High Street went viral on The Courier's own Facebook page, getting hundreds of shares and being seen by more than 64,000 people.
Mr McKillop said: "My music taste is a bit different. All my friends say I'm stuck in the past – I love Frank Sinatra, Johnny Cash and The Beatles.
"People seem to connect to musical and opera pieces. Folk come up to me in Dundee and tell me how much they connect to the piece."
However entering Red Barn Studios in Longforgan to record his single was a whole different ball park for Mr McKillop.
"It was my first experience recording the CD," he added.
"It is so different in the studio. It's a completely different atmosphere."
The single is available to buy from Birchwood Food Emporium on Dundee's Commercial Street or by contacting Mr McKillop.