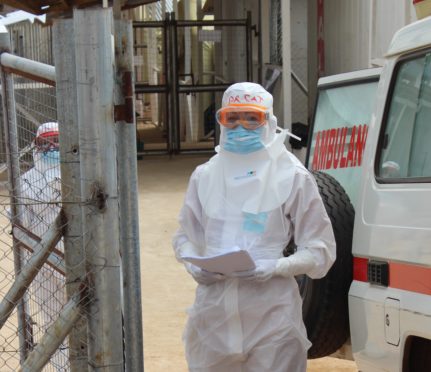 A doctor educated at Dundee University is at the frontline in combating the deadly Ebola virus that killed thousands across Africa.
After experiencing the risk of infection first-hand, Dr Catherine Houlihan is supporting a UK aid-funded vaccine.
The vaccine aims to prevent the outbreak of the disease that has killed more than 2,000 people in the Democratic Republic of Congo and 11,000 across West Africa.
Dr Houlihan said the new treatment, developed with support from the UK government's department for international development, has dramatically curtailed the spread of Ebola, with more than 200,000 people now vaccinated.
Dr Houlihan, a clinical lecturer in infectious diseases and virology for both the London school of hygiene and tropical medicine, and University College London, said: "I think the vaccine has changed the path of this outbreak.
"We could have already had a death toll similar to West Africa had we not had it."
Initial results show the vaccine has proved 97% effective.
The vaccination also ensures the protection of medical staff who are fighting the virus.
While in Sierra Leonne, Dr Houlihan faced the threat of infection.
She said: "I had moments where I had exposure, a tear in my personal protective equipment, I had a glove that came off, a kid that put their hand under my visor. Lots of alarming things happened.
"Before the vaccine, there were times in Sierra Leone when each of us was worried about the risk of exposure to Ebola inside the treatment unit.
"We are quite well versed in how to react, but it does raise your heart a little at the time."
Fife nurse Pauline Cafferkey became the first person in the UK to contract the disease, after being exposed to it while working in Sierra Leonne in 2014.
International development secretary Alok Sharma, said: "Ebola has already taken far too many lives in the Democratic Republic of Congo.
"Shockingly, it has wiped out entire families and, a year after this outbreak started, it is showing no signs of slowing down.
"The UK has led the way in tackling this killer disease and we can be proud of our support to create a life-saving Ebola vaccine which has inoculated 180,000 people so far.
"Diseases like Ebola have no respect for borders. This could spread beyond DRC. It is essential the rest of the international community steps up to help. If we don't act now, many thousands more lives could be lost."