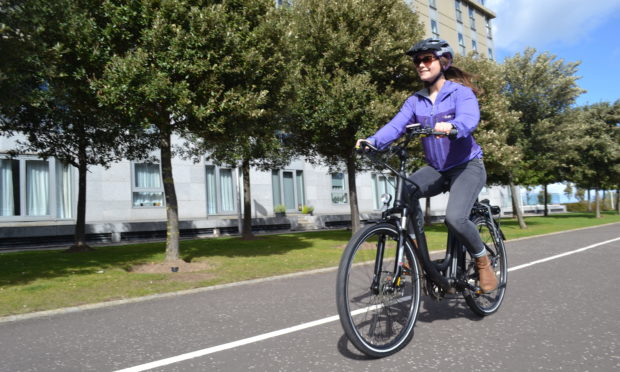 An e-bike share scheme coming to Dundee, and thought to be one of the biggest in the country, has been delayed in order to "get it right".
A fleet of about 350 e-bikes is set to come to Dundee. Charging stations will accompany the project, and are expected to appear across the city in the coming months.
Organisers Ride-On say it will be one of the biggest of its kind in the UK. The firm has similar schemes in mainland Europe.
The project was expected to go live in late summer or early autumn this year, but after a few set backs with some of the stations, a decision was made to delay the launch until spring next year.
It is still hoped a "soft launch" will take place through the winter, with a handful of bikes being available to some users to trial.
Steven Pyer, general manager of Ride-On, is keen that everything is in place and running smoothly when it does come.
He said: "We are going to continue putting in planning applications over the coming months so we have as large a network as we can.
"There are a lot of employees and businesses really looking forward to this.
"It's a shame it won't be ready this year, but we will do our best to make sure everything is in place for early next year.
"When some things like this launch and it's not quite ready, people lose interest and that can be difficult to regain.
"I hope that by launching in a big way in the spring with everything right, people will be fully engaged with it and remain so."
A series of planning applications have been made to Dundee City Council, but some of these have been subsequently withdrawn as bumps in the road emerged.
Steven added: "There have been a few examples of where we put the planning application up and people have raised legitimate concerns, so we have just withdrawn them.
"We don't necessarily have to do that when there are just a few objections on the application, but we want to keep everyone happy so took them down and looked again.
"Most of the time this has resulted in us finding a more appropriate place for the stations."
One such hub was set to be near the High School of Dundee, with some parents feeling it was too close to the school.
And BrewDog launched a petition to have a docking station on Panmure Street moved after the planning application appeared to show it placed on top of their beer garden.
Both parties came to an amicable agreement, with Ride-On saying the drinking area was never the intended home of the hub, and the plans for that area were redrawn.