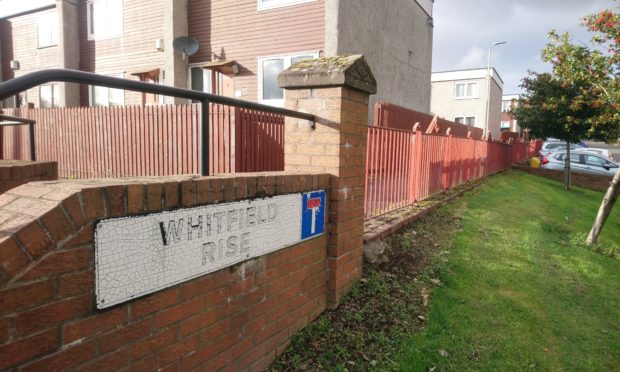 A vulnerable elderly woman in Dundee has been duped out of thousands of pounds by bogus gardeners, leaving locals shocked and disgusted.
Two men targeted the woman, who is in her 80s, at her home in Whitfield Rise over two weeks.
They arranged to carry out some gardening but after doing a small amount of work, they asked for a disproportionate amount of money, police say.
They then returned a number of times and pressured the victim into giving them more money but did no work in return.
The incident came to light after staff at the OAP's bank became concerned about unusually large withdrawals from her account.
Police have appealed to the public to help them trace the men. In particular they want to hear from anyone who might have private CCTV footage which could help to identify them.
Locals in the tight-knit community spoke of their shock and anger last night.
Harry Fury, 78, said he spoke to one of the bogus workers and now regretted that he did not stop him.
He said: "I'm just so annoyed at it happening.
"It's a close community here and we look out for each other.
"I usually help cut her hedges and trees but I've been unwell recently so had to slow down with things.
"Some of it had become very overgrown so these guys have seen the opportunity. I can't believe it.
"Imagine targeting an old woman."
The two men are thought to be in their 20s or 30s. Both were about 5ft 9 and slim. One had dark hair and the other had curly hair.
They were driving an older style white Transit van.
Harry added: "I only saw one guy but I can't remember what he looked like and it's frustrating me. I'm fairly sure he would be in his 30s.
"I spoke to him and asked him if he had permission to do it.
"He said he did so I left it.
"I feel stupid now."
Community safety officers from the council could be seen patrolling yesterday.
They visited the victim as well as various neighbours and urged them to get in touch with them if they had any suspicions.
A police spokesman said: "We know from speaking to neighbours that these men have attended at other doors in the vicinity offering to do work at inflated prices, and were in the area as recently as yesterday.
"If anyone in the area has private CCTV that may have captured images of them, please let us know.
"If you have any information that could assist our investigation, please call 101 or speak with any police officer."
Information can also be given anonymously through Crime Stoppers on 0800 555 111.