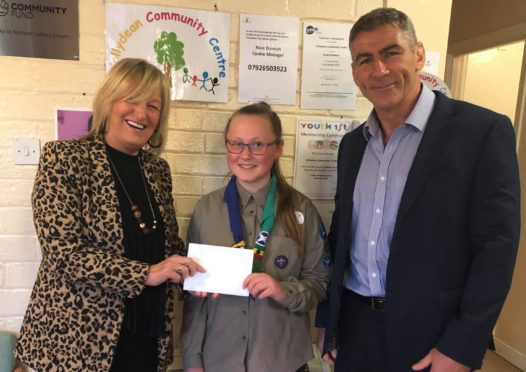 A Fife teenager hopes her passion for science will take her one giant leap nearer to America and the chance to visit the NASA space centre.
Glenrothes High School pupil Amy Orr, has just returned from a week of work experience in physics at Glasgow University, having been one of an elite band of promising students selected from more than 200 applicants from across Scotland.
During her week the 14-year-old was given a rare opportunity to learn about computer coding using the latest Jupyter software, as well as the chance to shadow a university researcher analysing gravitational waves.
The tutors were so impressed with Amy, she capped the week by being asked to deliver a presentation of her findings to the university's head of Physics and Astronomy, fellow researchers and other students at a science conference.
It is now hoped the experience will be the launch pad Amy needs for a once-in-a-lifetime opportunity to visit NASA.
Amy said "I loved my week at Glasgow University and it has made me more determined to follow my career goal."
Proud mum Lucy said her daughter had been mad about all things science-related since an early age.
She said: "Amy loves all aspects of science but particularly physics and anything related to astronomy and is really driven to to succeed in that field.
"At just 14, to be able to not only study but then present in front of adults and science experts is an amazing effort. I'm so proud of her.
"As Amy is still only in third year at high school, she has to wait another two years before she can apply for the NASA trip but it is her goal and her achievements in Glasgow will certainly help."
Through Amy's volunteering at Collydean Community Centre in Glenrothes, where she helps elderly residents, Amy's trip to Glasgow was supported by Dr Mark Picton, RWE's biomass plant manager at Markinch, who paid £250 towards the teenager's Glasgow trip.
Local business man, Trevor Newman who is a Collydean resident and a board member of the Collydean Community Centre also contributed £50.
"It was RWE's absolute pleasure to sponsor Amy," said Dr. Picton.
"She is a fantastic role model and is a wonderfully, talented and committed young lady.
"Hopefully in the future she will visit NASA in the United States and this could be the catalyst and springboard to fulfilling her career hopes, dreams and aspirations."