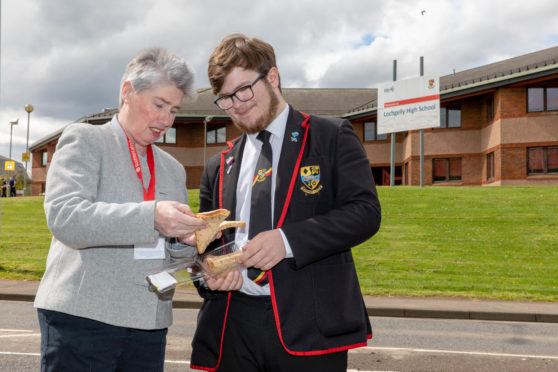 Furious Fife pupils say they have been badly let down by council officials who promised to scrutinise the quality and price of "disgusting" school meals.
Earlier this year, Scottish Youth Parliament member and Lochgelly High pupil Bailey-Lee Robb managed to convince officers to investigate the standard of food being served up to pupils throughout the kingdom amid concerns some youngsters were going through the school day hungry.
With a report due to go before Cowdenbeath councillors this week, Mr Robb has branded the document "disappointing" and believes young people have not been properly consulted.
"Back in May when I proposed this motion, which received unanimous support, it stated that young people had to be involved from the outset," he said.
"I was looking forward to receiving the report showing young peoples' true thoughts, but I feel let down. Our young people feel let down with this poor report.
"This is a blatant attempt to silence young people and to fob us off with a watered down report.
"This is disrespectful to young people and the council is only paying lip service."
The report suggests a questionnaire will be circulated to pupils during November and December, while notes that discussions have taken place around how pupils in receipt of free meal entitlement can buy a morning breakfast/snack and drink that would not have an impact on the daily financial allowance to purchase a meal at lunchtime.
It also touches on how Fife Council's pricing is very similar to other authorities at £2.20 per two-course meal, how sustainable products are used where possible, and how menus are chosen and developed in consultation with pupils, teachers and local kitchen staff.
However, Mr Robb says the report is nowhere near good enough and insists improvements must be made as a "matter of urgency", with young people involved in the process from beginning to end.
"If the recent young climate strikers are anything to go by, the council must wake up and realise that young people won't sit down and be quiet anymore," he explained.
"We will continue to raise this issue until real action is taken.
"The council are well aware that young people disapprove of its service that is provided, hence why the majority of pupils (76.9%) in the Cowdenbeath area and indeed Fife choose to leave the school estate for their lunch.
"We will not accept this raw deal or watered down report."
Councillors on the Cowdenbeath area committee will consider the report in detail when they meet in Cardenden on Wednesday.
A spokesperson said: "The proposed pupil survey will be conducted, and the results will be shared with the Cowdenbeath area committee at an agreed date."