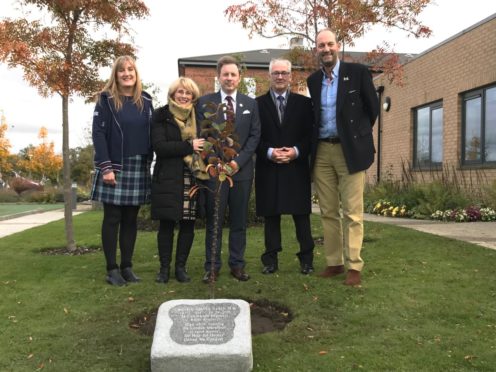 The legacy of a Fife Army captain who died while raising funds for Help for Heroes has been commemorated by the charity.
The family of David Seath, from Crossgates, have raised more than £300,000 for the organisation since he collapsed three miles short of the finish line while running the 2016 London Marathon.
The 31-year-old died later in hospital.
Help for Heroes marked the incredible legacy by installing a memorial stone and planting a crab apple tree in the grounds of its Northern Recovery Centre at Catterick Garrison in North Yorkshire.
Mr Seath's parents, Libby and Peter, and brother Gary were guests of honour.
An officer in 29 Commando Regiment Royal Artillery, Mr Seath cared passionately about veteran welfare and had chosen to support Help for Heroes by taking part in the London Marathon.
The charity's founder Mark Elliott said: "Help for Heroes is very much about family.
"We lost a member of our wider family when David died but we gained three more in Libby, Pete and Gary and it's been a huge honour to do so."
He added: "I could talk about David for a long time but I would like to talk about these three extraordinary people who, out of incredible adversity – losing a son, a brother – have gone on to do what they have done, raising money, planting a tree to keep David's name alive and through all that, every day helping others.
"I would like to pay tribute to them and say thank you."
Gerry McGregor, who runs Help for Heroes' fellowship network in Scotland, described the family's work as amazing.
"I am so lucky as I get to see the difference it makes to veterans' lives every single day," he said.
David's mother Libby told guests at the ceremony how her son had expressed his desire to work with veterans after he left the Army and how he would be pleased he was now helping them through the memorial fund set up in his name.
Mrs Seath plans to return to the centre to teach veterans how to make jelly using the apples from the tree as part of their recovery.
Gary Seath, who founded the Captain David Seath Memorial Fund in his brother's memory, said: "The funds raised in David's name will be used to support Scottish veterans in their recovery, including taking part in a wide range of sporting, creative and vocational courses as well as receive mental health support and general respite from the day-to-day chaos of life."
The granite plaque was donated by Fife stonemasons WL Watson & Sons of St Andrews.