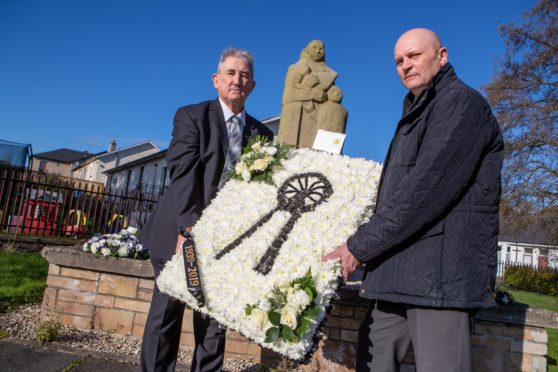 A Fife village has united in memory of the 35 men who lost their lives in one of Scotland's worst ever mining disasters.
On October 28, 1939, a blast at the number one shaft of Valleyfield pit left 42 youngsters fatherless and devastated the close-knit community.
Many others working deep underground in the early hours of the fateful morning were injured.
It was one of the worst mining tragedies in Fife and came just eight years after 10 men had perished due to carbon monoxide poisoning at Bowhill pit.
Eight decades on, locals turned out for a special wreath laying ceremony at the memorial which was created in the village of High Valleyfield in tribute to the miners.
The memorial which depicts a wife, surrounded by her children, waiting for her husband to come home, was erected on the 50th anniversary of the disaster in 1989. It remains a focal point for remembrance services.
Rab McKenzie, of the Valleyfield Mining Disaster Project Group, said the tragic events of 1939 still resonate with so many local people today because the mining industry has been a part of their lives for generations.
"The men, all doing different jobs in the colliery, were aged 21 to 65," he said.
"To bring this into perspective, every second or third home in the village and surrounding area had lost one, sometimes two, members of their family."
---

---
​
News of the explosion brought anxious families from around the west Fife village's footprint, desperate for news of their loved ones.
High and Low Valleyfield bore the brunt but communities from all around were devastated by the scale of the loss.
The King and Prime Minister sent messages of condolence and the manager of the colliery and agent of the coal company were later prosecuted and fined.
West Fife Villages councillor Kate Stewart laid a wreath in memory of her grandfather, James McFadzean, who was 28 when he was killed.
She said: "When I was young I asked my mum who he was as his picture always hung on the wall in the living room.
"She still remembers running to the pit steps for him coming home from work – I used to do that when my dad worked in the pits too – but obviously on that day he didn't come home.
"My mum was only about five when it happened. At the time, my gran was pregnant and because of the grief she lost the baby. One of her brothers survived but her husband, another brother and brother-in-law all died, and she lost her unborn child too.
"It must have been devastating."