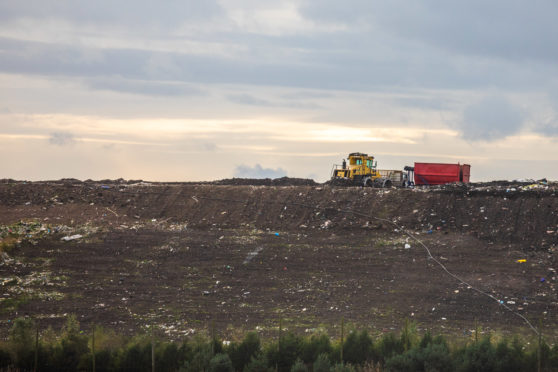 Fife Council has been given a warning by Scotland's environment watchdog over an offensive odour from a rubbish dump.
Sepa said licence conditions had been breached again at the Lower Melville Wood landfill site, near Ladybank.
Residents in nearby communities have endured an often unbearable stench from the tip for several years.
Environmental officers established a breach on October 21, when an offensive odour was confirmed outwith the site boundary.
Sepa has told council company Fife Resource Solutions to improve its management as quickly as possible to tackle the smell.
More regular monitoring of the site will also be carried out.
A Sepa spokesman said: "Sepa has issued a warning letter to the operators of the Lower Melville Wood landfill site after Sepa officers substantiated an offensive odour outwith the site boundary on October 21 2019.
"Officers have increased proactive odour assessments around the site, and have recently met with the operator to outline areas for improvement.
"We have made it clear to the operator that action must be taken as quickly as possible to reduce the impact of odours from the site on the local community."
An almost full active area of the site has been identified as the likely source of the odour.
Capping was due to begin this month.
Sepa has requested the process is completed as soon as possible.
Robin Baird, Fife Resource Solutions chief operating officer, said: "I can confirm we have received a letter from Sepa regarding excessive smell issuing from the landfill in late October.
"We continue to work with Sepa on a regular basis to ensure that our operations are in line with the landfill site conditions."
Extensive work has been conducted to tackle the smell in the past.
North East Fife MSP Willie Rennie recently called for a ban on further dumping until the smell is eliminated.
He said: "The stench is intolerable, so I will be keeping up the pressure on Sepa and the operators to get this fixed before Christmas as they have promised.
"I will be holding their feet to the fire.
"It is positive that steps have been taken but wholly inadequate that the smell is back.
"It is creating a suffocating atmosphere that is unpleasant for local people."