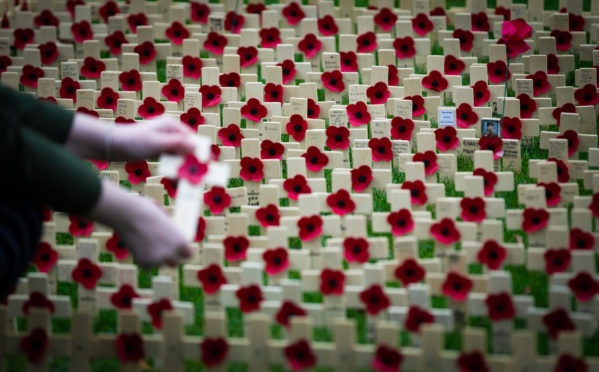 When someone who is constantly labelled a reality TV or Instagram star – or even worse still a "social media influencer" – says something, it's fair to say it can be taken with a pinch of salt more often than not.
Now and again though, their comments deserve a wee bit more scrutiny.
Take this week, for instance, when footage emerged of 22-year-old 'The Apprentice' contestant Freddie Bentley telling the hosts of Good Morning Britain that he didn't think schools should be teaching kids about World War Two in the classroom because it might impact their mental health.
"I remember learning it as a child thinking, 'Oh my God it's so intense'," he said.
"I don't think it needs to be put to such young children.
"For their mental health to be told that this amount of people died for you is a lot."
Maybe he has a point.
Or maybe, just maybe, it's this sort of drivel that highlights the very real need to ensure this generation's image of the First World War is not allowed to lose its sharpness.
With first-hand recollection almost completely gone, particularly with the passing of the country's last uniformed veterans, it is more important than ever for us to share the realities of the Great War with every child.
Fife's close-knit communities are perhaps better placed than most in terms of being able to mobilise people for parades and memorials, and organised Remembrance Sunday services held in towns and villages across the kingdom yesterday were fairly well attended.
But I've a very real fear that the younger generation isn't perhaps as engaged with Remembrance Sunday as they should be, and we risk the importance of commemorating those who died in wars and other military conflicts fading away like some sort of sun-bleached photograph.
Even something simple like wearing a poppy seems to be reserved for older people and TV presenters, and I genuinely haven't seen many younger people with one on their lapels this year.
That's not to tar school pupils with the same brush of course, as thousands of youngsters will be well aware about how significant yesterday was. Young people who have either been told about or touched by conflicts which have impacted their family in some shape or form over generations.
It's the ignorant minority who shouldn't be allowed to gloss over what came before them, particularly if the reason they give is because it isn't what they want to hear.
Sure, no-one is forcing anyone to wear a poppy or stand silent at a war memorial, but it is incumbent on us to educate future generations of our forebears' sacrifices and seize the opportunities that arise when our nation comes together to remember their heroism.