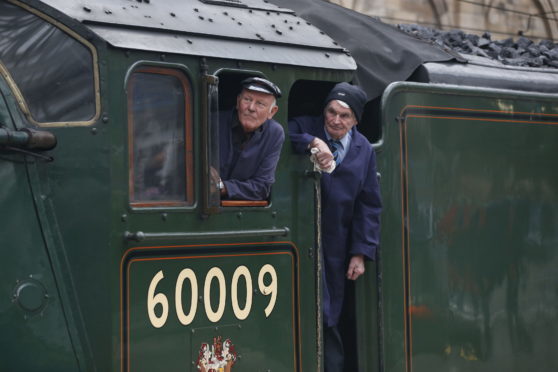 A new open farm visitor centre aimed at bringing tourism, education and economic benefits to the East Neuk of Fife has been given the green light by councillors.
After seeing a previous application on a slightly different site turned down earlier this year, the Cameron Agricultural Trust has been successful with its bid to create a centre at Balbuthie Farm to the east of Kilconquhar.
The development will allow members of the public to visit the farm and see how food is produced, while links will also be established with local schools and colleges.
While the latest iteration of farmer John Cameron's ambitious plans have been given the go-ahead, question marks still remain over what will happen to the two famous locomotives he owns.
The Union of South Africa and the Great Marquess were left out of the revised planning application.
A previous application, which included plans to feature the historic steam engines on site, was turned down by planners deciding the original application for the west of Balbuthie Farmhouse.
It was deemed the display was not required for agricultural operations and would represent a loss of prime agricultural land.
Roger Brown, chairman of the Visit East Neuk Tourism Association,  said: "The proposed open farm is in line with current Scottish Government policy to improve people's education and understanding of current farming practice and introduce residents and visitors – especially children – to the workings of a modern farm 'in situ'.
"We consider that the proposed development would make a very important contribution to the East Neuk's tourism economy and product diversity."
Internally, the proposed visitor centre building would incorporate presentation and meeting rooms, a store, reception area and a café.
A 21-space car park will also be built to the west of the centre and councillors were assured the applicant would pay for passing places on Balbuthie road leading to the facility.
There were 11 letters of objection and six letters of support received.
One of those came from Colinsburgh and Kilconquhar Community Council, which had numerous concerns about the impact the plan might have.
Objectors were concerned a separate application for a new agricultural storage building alongside the development site could be used for other means, such as storing Mr Cameron's trains, exhibitions or social events.
However, that application was also passed by councillors who were assured the storage shed could only be used for agricultural purposes under the conditions granted.
The Union of South Africa pulled the Royal train conveying the Queen from Edinburgh to Tweedbank for the opening of the Borders railway in 2015.
The Great Marquess was built in the 1930s to bring herring traffic down the West Highland line from Mallaig to Glasgow and is the only one left in its class in the UK.
No plans have yet been submitted to store the locomotives once they are taken out of service.