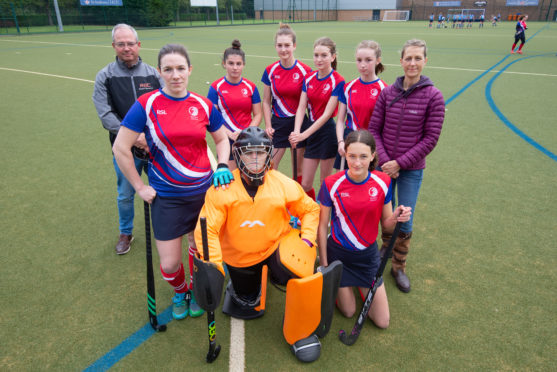 A community campaign for a new hockey pitch in St Andrews could be the solution to a shortage of facilities in the town.
Local players who have had to travel to Dundee and Perthshire to host homes games were angered to learn there will be no 2G synthetic pitch at the new Madras College.
But town councillor Brian Thomson has proposed that a sand-dressed pitch could be created at Station Park, suitable for hockey matches and training.
He has urged those eager for such a facility to address the shortage in north-east Fife to help turn his suggestion into reality.
Madras College Former Pupils Hockey Club, which criticised the provision of only 3G pitches at the new school, said a pitch at Station Park would be ideal as long as it is community or council-owned to ensure public access.
Labour councillor Mr Thomson said concern about the lack of provision had been expressed by parents of children who play the sport and the wider local hockey community.
He said: "Given that the decision on pitch provision has been made, I'm of the view that the development of a community 2G pitch at Station Park is worth pursuing.
"Fife Council is not in a position to fund such a facility but it may be possible to source funding from a variety of external sources, and a sports facilities consultancy is providing me with an indicative cost for a 2G pitch, floodlights and fencing.
"I'm fully aware that such a facility would be expensive, and I appreciate that seeking to provide it is extremely ambitious but I think that it's worth having a go.
"If anyone would like to assist in pursuing this proposed community project please contact me directly."
The 3G pitches to be installed at Madras are suitable for several sports including football, rugby and hockey only up to S3 level, and are considered to be in greater demand and less likely to close during cold weather.
It was initially intended to have one 2G and one 3G pitch but the council said that after consultation it opted for two 3G pitches, one with longer pile often termed as 4G, at a joint cost of almost £1.4 million.
With at least a dozen hockey teams vying for play time in St Andrews, Madras College Former Pupils Hockey Club was eager to use the 2G pitch first proposed.
Unable to secure play time at the St Andrews University Sports Centre just a fortnight ago, it had to travel to Kilgraston for a home game.
Club secretary Jade Milne said: "A 2G pitch at Station Park would be fantastic but it has be a community pitch.
"It looks more and more like this could be our only option now.
"We can't grow as we are and we are losing players. Girls are travelling to Dundee to train instead.
"A council-owned or community-owned pitch at Station Park would allow us to grow."