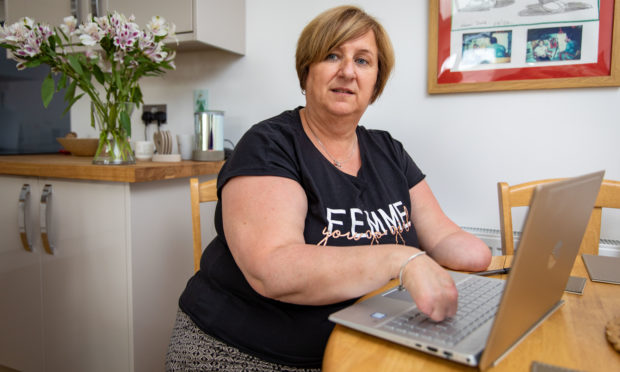 A Fife grandmother who lost her limbs to sepsis has typed an 80,000-word autobiography using just her thumb.
Inspirational Marguerite Henderson, 56, has taken six months to document what she went through after a paper cut led to deadly blood poisoning and changed her life forever.
The Crosshill woman is now seeking a publisher for her book Sepsis: Raw and Real in the hope her story could help others.
She wrote it in 20-minute stints at her laptop, despite the painful memories it brought back.
"I had to be brutally honest with myself and at times I had to stop because looking back was too upsetting and painful," she said.
"I've been through so much and found myself fighting to be the person I was, instead of coming to terms with who I am today.
"I know there are people who will want to read what I've been through,
"I may have lost parts of my body, my job and even my boyfriend but the experience brought me so much closer to my family."
Marguerite, a former council family support worker, had to fight for survival after a tiny cut led to a poisoned finger and spread through her body.
She spent seven days in an induced coma and surgeons had to remove her hands and legs amid fears of a relapse.
She began writing her story at the end of last year as part of her healing process.
"Just before Christmastime I felt there was so much in my head and I was trying to process things and try to put a perspective on what had happened.
"It was like I had lots of pieces of a jigsaw, so many bits jumbled up, so I started to write things down, putting bits of the jigsaw together so I could get a grip on reality.
"I never thought 'why me?' because 'why anybody?' but I just needed to know why it happened."
She said writing her story had also helped to open dialogue with family and friends about her illness and the emotional toll it has taken on them.