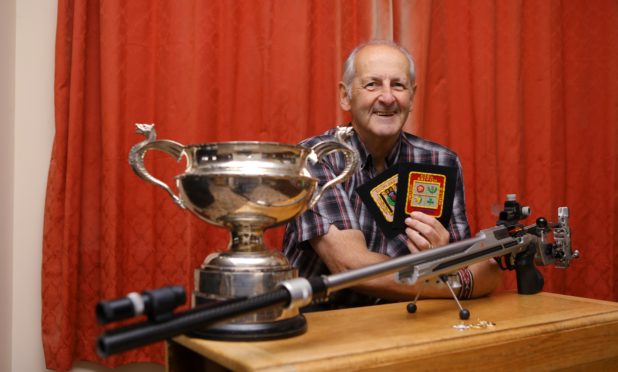 A Fife rifleman has hit the target three times to scoop a hat-trick of titles.
Ken Greenaway, of Cupar, won both the British and Scottish championships and the British veteran championship in short range small-bore shooting.
Aged 72, he is the oldest person to have landed all three crowns and the first to win all three in the same year.
In both the British and Scottish competitions Ken shot a perfect score of 400 out of 400.
His success comes just nine years after his return to the sport competitively.
He said: "I am extremely proud of this success as the top 20 shooters makes for a very competitive field where one missed shot can mean the difference between winning and coming second.
"I suppose I have to say it's a bit special being able to still compete against the best at my age, but it boils down to determination and lots of practice.
"I enjoy going to competitions all over Britain and have made a lot of very good friends doing so."
Ken started shooting as a teenager and competed with an Edinburgh University club but gave up the sport in his 30s.
When he took it up again in his 60s he had no expectation of returning to the form of his youth but being told by several people he wouldn't win much at his age was the proverbial red rag to the bull.
Ken said: "Seven years ago nobody had heard of me.
"Since then I've won dozens of major competitions, shot for both the Scottish and British international teams and am well-known throughout the sport."
He encouraged anyone interested to give the sport a try by getting in touch with their nearest club.
He said: "Target rifle shooting is a wonderful activity which is open to all, from children as young as 11 to old codgers in their 80s, male and female, and people who are disabled."